Are you ready for a recap?!!? I know....I know...you're saying to yourself "it's about damn time!" (yes, Mom I'm talking to you..except I know you didn't curse...lol!)
The start of peak week went rather smoothly. I am the Queen of Lists so I had started lists of what I needed to pack, what needed to go in my show bag, what needed to go in Genie's gift bag, what The Princess needed for her stay at Nana's house, and a schedule of tasks. All of the the lists help me when I have cloudy diet brain and can't remember what needs to be done! Before I knew it, it was Wednesday and time to drop The Princess off at my mom's. Our flight left at 7:00 am on Thursday so
we
my mom decided that it would be best for her to spend the night Wednesday night. Despite all of the lists, I still felt extremely disorganized! I kept remembering things that needed to be done like running the dishwasher, setting out the garbage cans, and cleaning the bathroom (yes, I'm one of those weird people who cleans their house before they go on vacation because I don't want to come back to a dirty house!). I finally finished packing and climbed into bed around 3:00 am. Before I knew it, it was 5:15 am and the alarm was beeping.
Tom's mom drove us to the airport and we quickly checked our bags. Can I just say how much I love Southwest Airlines for allowing you to check in 24 hours before your flight and not charging you to check luggage?!? I was nervous about going through security with my cooler/backpack but I had gotten some really great advice from different competitors about what type of bag to use and how to pack my food.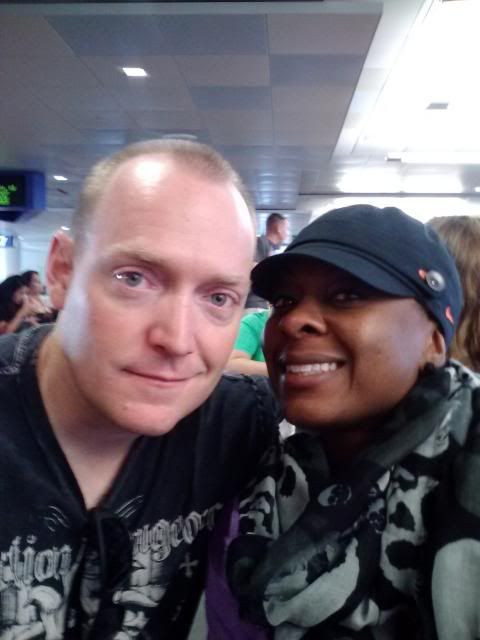 Waiting to board the plane
We made it through security with no issues and parked ourselves at the gate. It was time to eat so I pulled out my first meal of chicken & asparagus while it seemed like everyone else enjoyed coffee, bagels, and breakfast burritos. Tom wasn't feeling so well but he was a champ. He took the large ziploc bags I had brought with me and had one of the airport bars fill them with ice so I could get my meals frozen. (this was one of the great travel tips I received from Kari over at
Figure Girl World
!)
Tom & I had talked about where we wanted to sit on the plane and since I knew I might have to make multiple trips to the bathroom, we chose the second to the last row on the plane. We both made ourselves comfortable and went to sleep. I felt a little funny having to get up every 3 minutes (ok, that's an exaggeration) to use the restroom but a girl's got to do what a girl's got to do. I often joke that I know that it's peak week by the fact that I will use a public restroom without giving it a second thought. Any other time, I will hold it and hold it if I have to! I'm pretty sure the flight crew thought there was something wrong with me given the number of times I was in that teeny tiny bathroom :)
Almost there! And tell me the look on the guy's face next to Tommy isn't hilarious!
As I took this picture I said (out loud!) "Chicago....I am in you!" :)
The flight took just over three hours and before I knew it, we had picked up our luggage and were walking to pick up location for the shuttle we booked. I was so shocked at all of the green things I saw...trees with green leaves....grass....we don't have any of that kind of stuff in the desert :) Tom commented on how flat it was - we're used to looking out of the window and seeing mountains all around us.
The drive to our hotel (Springhill Suites O'Hare) took less time than Google Maps had calculated so we arrived at the hotel before the check in time. Luckily the staff were really accommodating and they let us check in early with no hassle.
This hotel was top notch! The staff were so nice and answered all of our ridiculous tourist questions. There was a free breakfast each morning that was incredible - I'm not talking about nasty orange juice and mini bagels, folks! Anyway, we got settled into the room and then the waiting game began. When the heck was Genie gonna get here?!?!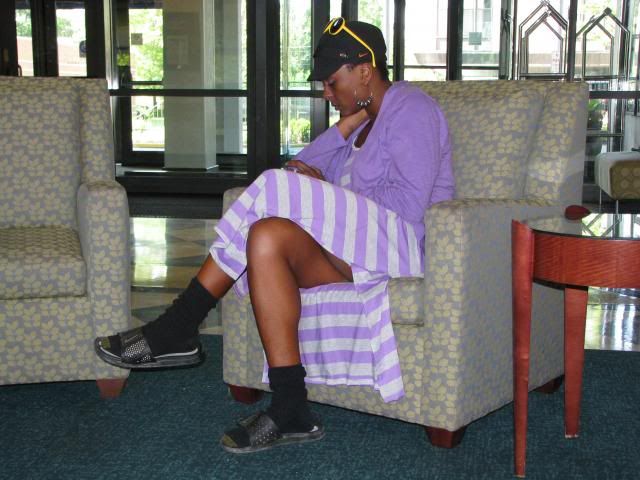 Yes, I actually wore this in public as I waited for Genie to arrive :)
She was texting me updates about her progress (or lack thereof!) and I anxiously waited! Three years this woman has been taking care of me, coaching me, supporting me, you name it and I was finally going to meet her in person. Tom kept teasing me because I was glued to my phone and fidgeting as I kept an eye out for a white Prius. Then I heard Tom say, "Is that her?". I looked up and guess what?!?! Genie was here!!!! In front of the hotel!!! She was H-E-R-E!!!! I think I might have squealed and yelled out loud "She's here!". Tom told me to calm down but it was too late - I was already on my feet and running out the front doors to meet here. I walked right up to her and hugged the life out of her.....and then tears started....yes....I cried...don't believe me...watch....
There was no way you could wipe those smiles off our faces!
Tom was included in the hugging - he didn't cry ;) but it was so awesome for the three of us to be in the same space. Genie parked her car, we grabbed her stuff, and headed up to our room. I was a little worried that it would be awkward between us. We've only communicated via telephone calls, text messages, and instant messaging so face to face would be new for us. Guess what? From the second we laid eyes on each other we were talking, laughing, teasing one another, and laughing some more!
The note The Princess wrote for Genie and the black & yellow blanket my mom made for her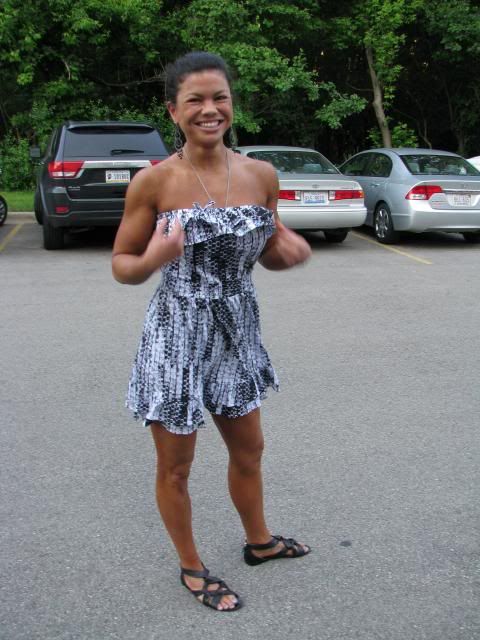 Love her!!!
Before heading into check-ins!
My arm candy & I ;)
Once Genie got settled in, we started to get ready for athlete check-ins which were being held at the host hotel/show venue. My friend Jenny (who is also from AZ) was also competing and since she was staying at the host hotel, said she would meet up with us. Check-ins went quickly and I tried not to focus too much on the other competitors that I saw (in the past I've talked about how I have a tendency to psych myself out once I see other competitors).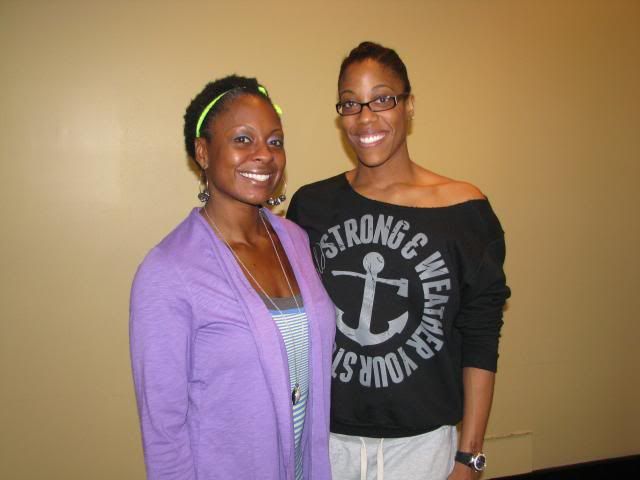 Jenny! I met her at my first show and my "The Tan Rule" post was inspired by her!


Yep...competitors...and dorks :)



It was nice having friends that have competed at the national level because they were able to "guide" me through each step of the process. Once we checked in and had a chance to chat with Jenny, we headed back to the hotel to eat and rest.
I'm going to stop here because I still have a TON of things to share with you and I don't want to make your eyes bleed! :)
I'll leave you with a few more pictures from Thursday in Chicago!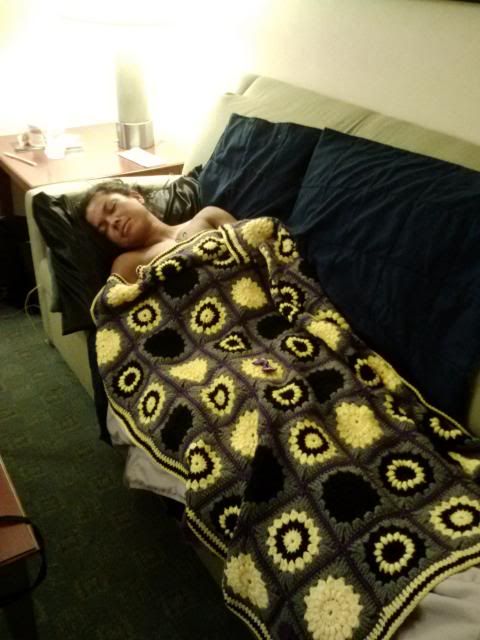 She looks so sweet & innocent ;)