Disclaimer: I was provided with products from Designer Whey to review as part of my affiliation with FitFluential.
As always, all opinions expressed are my own.
Off-season aka improvement season is in full effect!! You guys, this is the first "real" off-season I've had since I started competing three years ago! I know I haven't officially shared what's next on my competition agenda but here's what you should know, my clear 5 inch heels will be resting comfortably for
at least
the next 7-8 months.
During these next few months, I have certain goals I am working towards which include adding muscle to my upper body. Yes, you read that right - I am working on adding muscle! The feedback I received after Junior Nationals included a portion about adding mass to my upper body and you know I had to make sure I was reading the email correctly!!
The past several years I have focused on decreasing size and now I was being told I needed to add some. I am also still focused on Operation Build-a-Back and gettin' that booty like Serena! This means a change in training and slight changes in my diet which is why the opportunity to try the new Sustained Energy protein powder from
Designer Whey®
was perfect!
From the Designer Whey®
website
:
"

Designer Whey® Sustained Energy™ is specifically formulated with our proprietary Endurance Blend™. Designed to give you balanced, stimulant-free, sustained energy through fast absorbing whey protein and slower absorbing soy and casein proteins, giving you a steady supply of essential amino acids while helping you control hunger with fiber. Packed with 16 grams of protein, 5 grams of fiber and 19 Essential Vitamins & Minerals and naturally flavored and sweetened – all for only 100-good-for-you calories!

"
When prepping for shows, I normally use a whey isolate protein powder for any shakes that I may have. Whey isolates are generally lower in
taste
calories, fat, sugar, and carb grams. Since I don't have to keep as close of an eye on these numbers (improvement season equals a small amount of wiggle room), I decided that I would replace my whey isolate with the Sustained Energy powders I had received.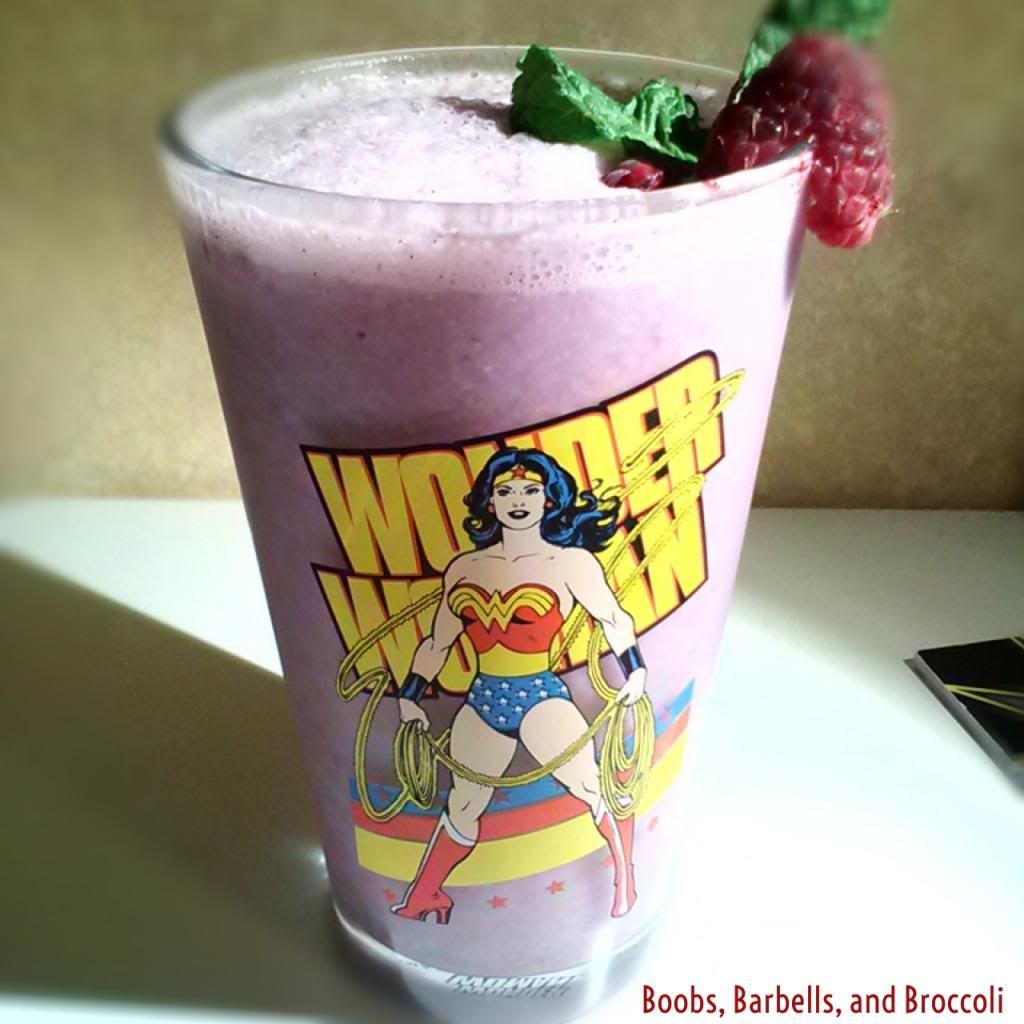 Post-cardio deliciousness!
The first shake I made was a fairly simple one. I'm always scared of getting fancy with new ingredients so I tend to stick with what I know...lol! I decided to treat myself by drinking my shake out of my Wonder Woman glass instead of a plastic shaker. It's amazing how awesome you feel having a healthy meal out of a real cup :)
Ingredients: water, 1/2 cup of raspberries, 1/4 cup of chia seeds, Vanilla Bean Sustained Energy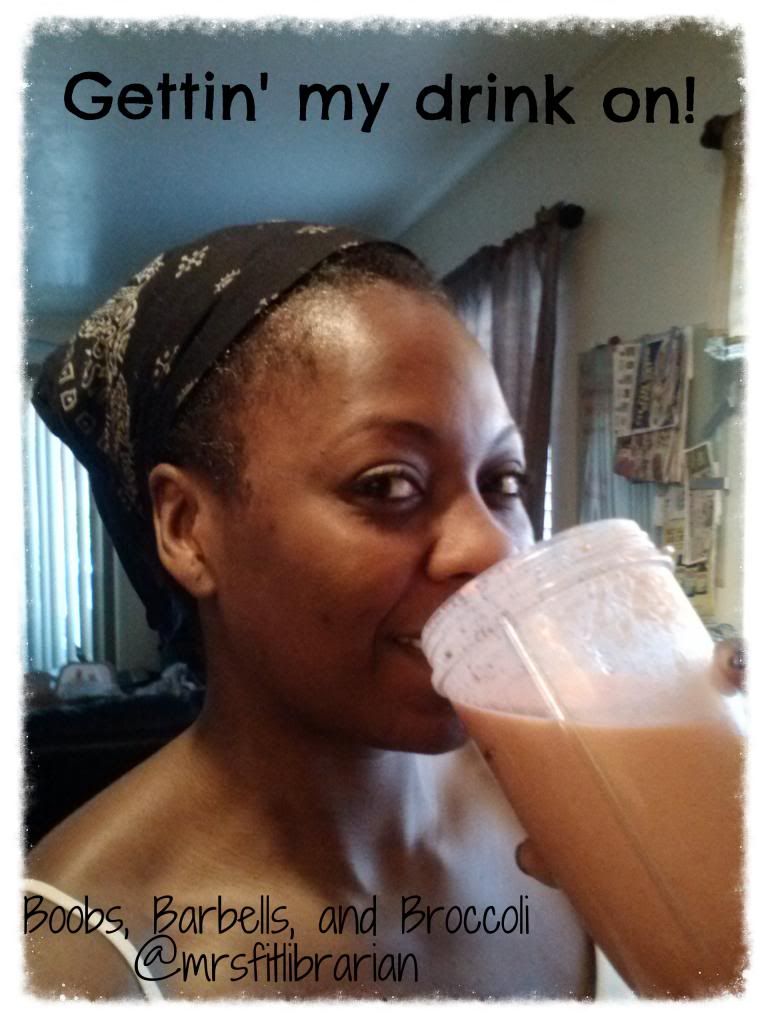 In addition to confessing my fear of fancy protein shakes, I will also admit that I rock bandannas while drinking my protein shakes in the kitchen! I will also admit that I drink Metamucil to help me stay regular. Metamucil is not the easiest thing to drink so I will mix it into other things if I can (remember my
Power Slushie
?).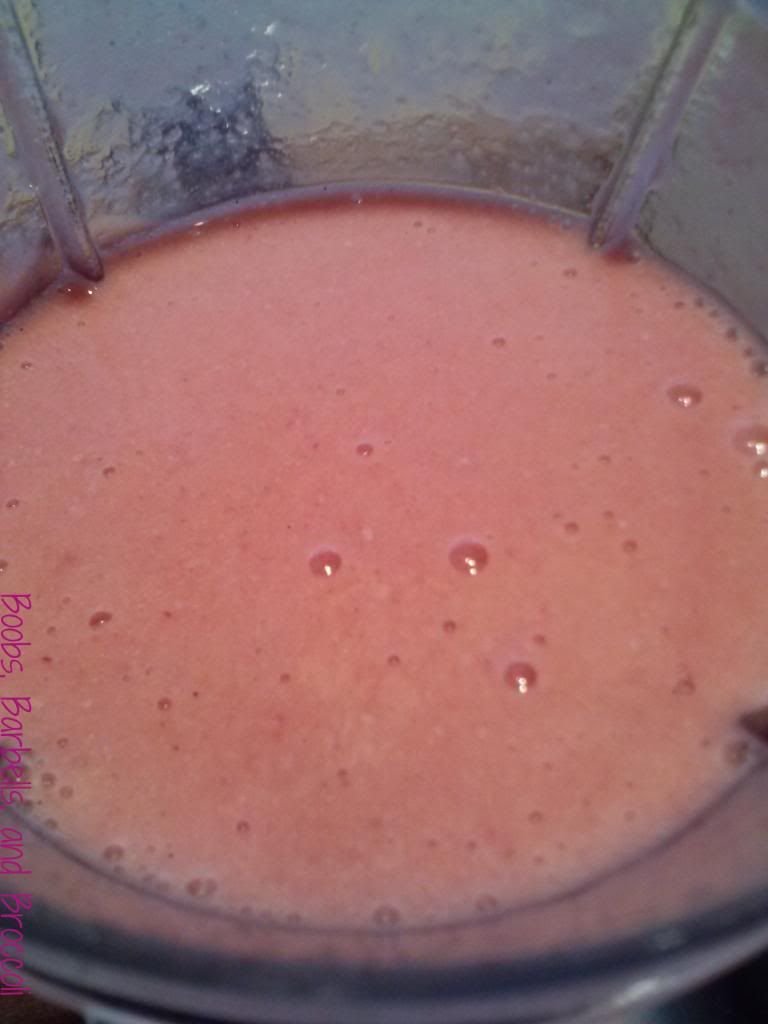 This shake was really a spur of the moment idea but it came out perfectly, not too thick or chalky!! As I was making it with the ingredients I listed in the shake above, I remember that I hadn't taken my Metamucil so I added a scoop to the Nutribullet and threw in a banana since it was obvious things were gettin' cray cray up in my kitchen :)
Ingredients: water, 1/2 cup of raspberries, 1/4 cup of chia seeds, 1 banana, 1 scoop orange flavor Metamucil, Vanilla Bean Sustained Energy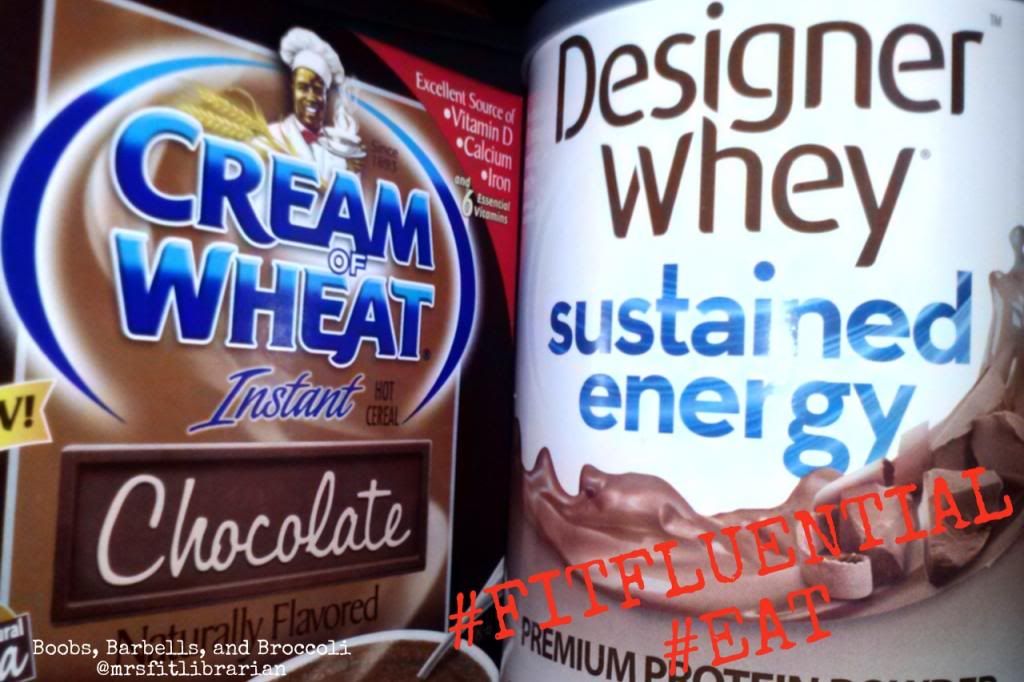 If you have not had the chance to enjoy the yumminess that calls itself "Cream of Wheat Instant - Chocolate", you must to do so immediately. I am obsessed with mixing my cream of wheat with protein powder and so I had to try the
Designer Whey®
with it. The Chocolate Velvet flavor is quite strong so you know what that means? I did my happy wiggle while enjoying my pre-workout carb meal. It pains me to think about giving up this meal when prep starts but that's so far away, I'm blocking it out :)
Designer Whey®
has a pretty great product on their hands. I like the idea of a protein powder giving you long-lasting stimulant free energy! What a simple yet amazing concept! I will admit that I am a bit disappointed by the nutritional facts but only because this is a product I personally would not be able to use during competition season due to the number of protein grams (too low) and carb grams (too high) per serving. But again, it's not competition season so I'm enjoying my two new protein powders!
Guess what?? You can enjoy them too!
Designer Whey®
has generously offered 6 of my readers the chance to win their own canister of
Designer Whey®
Sustained Energy! To enter, you just need to comment below with which flavor you would choose if you won.
a Rafflecopter giveaway