My amazing parents! My Dad always has to be a brat
when someone is taking his picture :)


It turns out I wasn't going to be alone during my weekend in Mesa. My parents made the drive up from Tucson to hang out with me and attend Finals! I was so happy and a
lot
little less lonely. We decided to hit up a new outlet mall and have lunch before I would have to return to my hotel to get ready for the athlete's meeting at 4:30 pm.
Retail therapy was exactly what I needed to get my mind off of prejudging, my loneliness, and worrying about what would be happening later that night. My birthday had come and gone a few days prior and since I couldn't treat myself to a slice of cake, I would have to settle for a new purse and/or a new pair of shoes!!
Apparently, Dad needed retail therapy too :)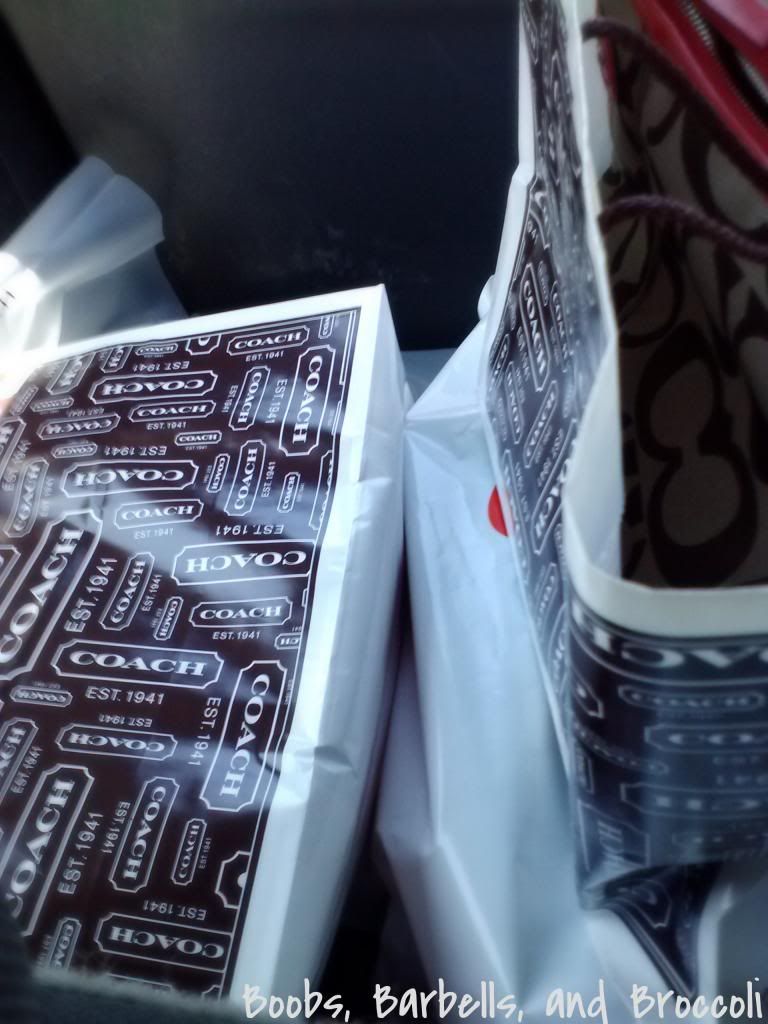 Call me "high maintenance" if you want but
Coach brings joy to my life...lol!


The outlet mall was outdoors so I tried to stay in the shade whenever possible and not overheat (can't sweat off the tan!). After a few hours of shopping, we decided to have lunch and then head back to the hotel. At lunch my parents asked questions about what had taken place the night before at prejudging and how I felt going into finals. I remember telling my parents that the official goal was top 5 but unofficially, I really really wanted to place in the top 3.
Walking into the venue for the athlete's meeting, after driving around & around & around trying to find parking, I felt like I just wanted to get the damn show on the road...lol! Backstage, you can definitely tell a difference between this night and the night before. At Finals, competitors are a bit more relaxed, social, and calm. I think this has to do with the fact that the "judging" is over and Finals is the "show" - bios for each competitor are read, individual presentations, routines are performed, basically all of the fun stuff.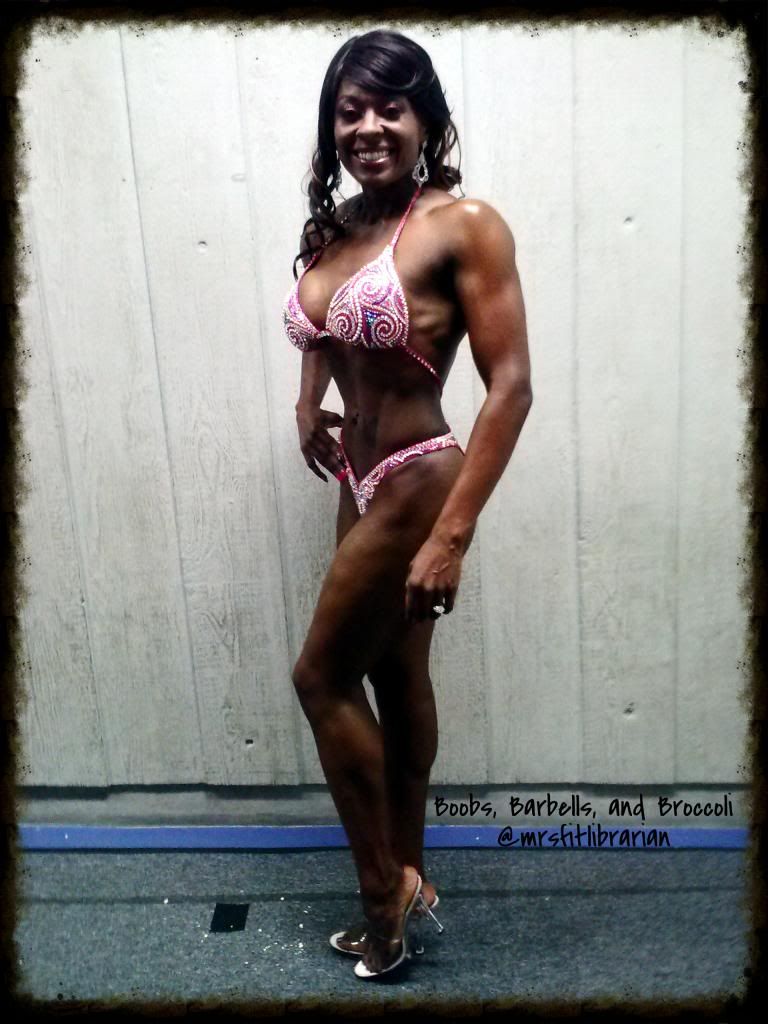 Killin' time by striking a pose :)
From my facebook page - I met Marci at her first show,
NPC Terminator in Tucson 2 years ago!
There is a lot of waiting at Finals...I mean...A LOT!! As I did the night before, I found a small corner where I could put down my yoga mat and relax until it was time for Figure to go on. I was a little antsy and could feel myself starting to get stressed out about the fact that soon we would be finding out placings. I propped my feet up, put on my ipod, and took a quick power nap.
They're so pretty!
When I woke up from my nap, I realized that only 20 minutes had passed and there was still quite some time before Class D would be walking across the stage. I decided to find my parents' seats and say hello and possibly walk around the small expo that was being held in the lobby. After chatting with the 'rents for a few minutes, I headed back to the dressing rooms to start getting ready. On the way back, I made a small detour and asked one of the expediters if I could snap a picture of the trophy table for my blog. I told him "this might be as close as I get to a trophy tonight" while I was snapping pictures, he just chuckled and let me do my thing.
Finally, IT WAS TIME!!!!
Class D was lined up backstage and we were given instructions about when to walk out on stage, what poses to hit, and all of those important things. I just remember thinking "Your mom is here. Don't do the dip!". You might be wondering what the dip is....see below... :)
My mom hates, with a passion, the dip! I knew that if I did it, she would scold me the second I walked off stage...lol....so I decided no dip at the end of my individual presentation.
The emcee began introducing the girls in our class and one by one, they walked out and posed. I wasn't nervous or scared. I remembered feeling like I had done everything I needed to and I was just going to enjoy the moment. I heard the emcee say "Next we have Tenecia Phillips..." and it was showtime. I put a huge smile on my face, put my chest up, and walked out as confidently as I could.
As the remaining girls were introduced and we did a set of quarter turns for the audience, I remember telling myself to continue to pose strong and look directly at the show photographer (he sits behind the judges).
I wanted the pictures that The Bosses saw to be the best ones possible and if by some miracle, this show was the one I did well at, I wanted the pictures to be on point (crazy & slightly cocky, I know) so I made it a point to look directly at the photographer and channel all of the episodes of America's Top Model I had watched in my life (3...lol).
After each class and its competitors were introduced, there was going to be a short intermission for the audience. During this intermission, the expediters had explained to us that they would be posting the lists of each class and those who had placed in the top 5 would have their names highlighted. Jessica and I nervously waited for the list for Class D to go up and after what felt like an eternity, the list went up and this is what we saw....
Both of our names were highlighted!! We both screamed (not in a loud, obnoxious way) and congratulated each other. We ran to the dressing room to fix our suits, touch up our makeup, and reapply glaze. The expediters were asking everyone who had made the top 5 to make their way back downstairs because trophy presentations were going to start within the next few minutes.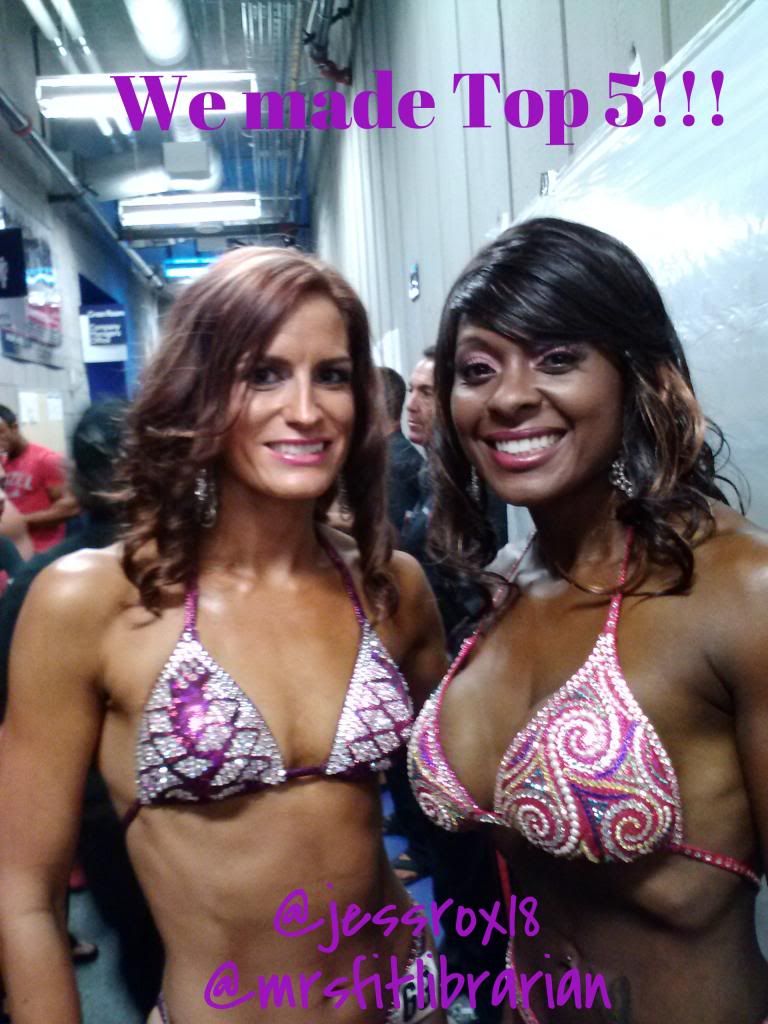 Trophy presentations for the classes before our's went quickly and within a few minutes, Class D was ushered out on stage. The emcee called the number for 5th place and it wasn't mine. I thought "ok..this is a good sign" and 4th place was called. Again, the number wasn't mine and I started to get excited. I knew that no matter what happened next, this was my best placing to date! I heard the emcee say that the trophy for 3rd place would be given to #63 and I clapped. Jessica had placed third in her first figure competition and I was so happy for her. Then it hit me. It was down to two of us. I looked over at Katie (#60) and I felt amazing. I had met my unofficial goal of placing in the top 3. I was going to get 2nd out of 15 competitors and that felt pretty damn good.
The emcee said, "please take the trophy for second place over to number six...." and I started walking forward...and then I heard " SIX-TY Katie Durkin" and I gasped. I'm pretty sure I did the whole Ms. America, I think I'm going to cry thing. Then I heard my number and name being read as the winner of the class.
You guys, I almost started crying. All I could think was, "This is what it feels like". As I walked off stage after the comparisons for overall, one of the trainers pulled me aside and told me it was about damn time and at that moment, I couldn't help but start crying.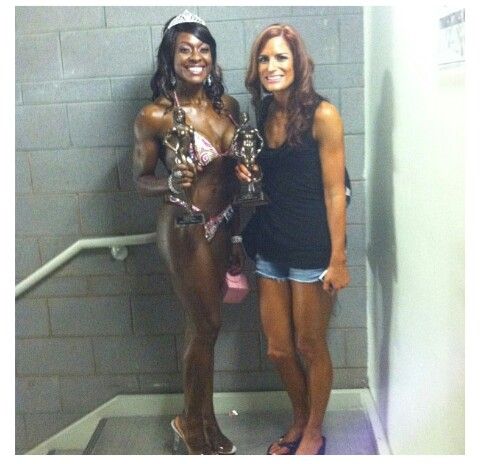 In complete shock that I just won!
I love the "holy sh!t" look on my face - priceless!
Jessica and I found each other and took a couple of pictures together. I sent off an excited message to The Bosses, my sister-in-law, my sister, brother, and a few friends. And then I sat down and took in the moment.
I have struggled with thoughts of quitting or switching divisions because I wasn't sure if figure was the right fit for me but I kept telling myself not to give up quite yet, fight for more just a bit longer. This moment felt incredible. It wasn't about the trophy or the tiara (but let's be real, who doesn't love a tiara?!?) - it was about knowing that I could be successful even if others were telling me that I should walk away. It was about pushing myself, sacrificing, being willing to make changes.
I'll leave you with a couple of pictures from the end of the night. I have people I need to thank but I want to do that in a separate post, especially since this one has gone on & on :) I will be adding pictures to my
facebook page
so if we aren't friends yet, feel free to add me!
From Instagram - my Dad & I celebrating my win!