If you have been reading my blog for awhile you know that I absolutely L-O-V-E music...especially new music! In 2013, I stumbled upon a new blog (thanks
FitFluential
!) called
Pavement Runner
. The writer of this blog would do a weekly post called "Playlist Thursday".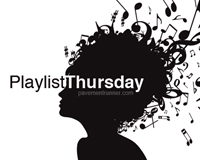 Playlist Thursday would feature a theme (example - Radio Jams) and three songs would be shared. However, there were some rules. The rules were one song had to be "Something Old" (songs that are at least 5 years old), one song had to be "Something Current" (songs that have been released within the past year) and one song had to be "Something to Consider" (this was the wild card category. Could be current, guilty pleasure, underground, really anything). I loved this weekly post and while it's not happening as frequently as it had been, you can still see the various posts by visiting the
Music
page of the
Pavement Runner
website!
Since getting an iPhone last April (yes...I took that long to get with times...lol!), I have been listening to the various stations on iTunes Radio which is a great way to discover new songs. I've even created personal radio stations like Iggy Radio, Sam Smith Radio, and Slow Jams Radio and I always love when I hear something that makes me say "OOOOHHHHH!!! What's this?!? I need to add this to my iTunes!".
Anyway, there are a few songs that I just had to have on my Playlist of Power aka my cardio/lifting playlist. They are......
Two songs from Jessie J's new album.

Masterpiece
Burnin' Up featuring 2 Chainz


Bounce by Iggy Azalea
Real Love by Clean Bandit
Centuries by Fall Out Boy
Can't Stop Dancing by Becky G
Flawless Remix - Beyonce feat. Nicki Minaj


Touchin', Lovin' - Trey Songz feat. Nicki Minaj


I Don't F@&k With You - Big Sean
*lots of profanity in this one so you might want to
skip it if you have sensitive ears
What songs have you recently added to your cardio/lifting playlist?