As a FitFluential Ambassador, I received Koge Vitamins to review. While the product was given to me free of charge, all thoughts and opinions are my own.
I stumbled upon the picture above some time ago (can't remember where) and it stuck with me! So much so that I saved it on my phone as a reminder that I need to do everything in my power to take care of myself.
That is why, when I was presented the opportunity through my partnership with
FitFluential
to review
Koge Vitamins
, I jumped at it!
Who here takes their vitamins each day, faithfully? I can't raise my hand because while most days I remember to take them, some days I forget. I know there are those of you reading this that don't supplement your diet with vitamins because they're too expensive, you don't know what you should take, you don't know what the benefits are, and the list goes on.
Koge
was created to help answer those questions.
From their
website
:
"As vitamin consumers, we're tired of being confused every time we walk into a vitamin store — you shouldn't have to search through hundreds of products and brands in the hopes of finding something that's right for you. We're also frustrated with how expensive premium vitamins are — do customers really need to spend that much every month? Koge was born out of the desire to solve these problems and to fundamentally change the industry."
Koge
offers several different vitamin packs and since I am currently prepping (which can, at times, mean low energy levels), I chose to review their
Energy Pack
. Each bottle contains 30 individually wrapped packets and each packet contains 4 capsules. I loved the individual packets!! I could grab a handful of packets and throw them into my cooler without worrying about crushing or losing any capsules. That, to me, is always a plus!
The Energy Pack contains 1 Korean ginseng, 1 Guarana, 1 Coenzyme Q-10 with L-Taurine, and 1 Ayur Indian Ginseng. This combination, according to
Koge
, will provide your body with an optimal energy boost that will remain consistent throughout the day. This particular pack is also said to increase mental alertness, stimulate resistance to stress, and provide an energy boost that supports exercise.
I want to be completely honest. I am
not
taking the energy packs every day. Since I have received them, I have taken them at the most 3 times in a given week. With that said, I did notice a difference in my energy levels when I did take them. I wasn't bouncing off the walls or jittery but I could tell that I wasn't "running on fumes". In addition to the individual packaging, I like that that pills are not the size of my head and don't smell like garbage when you open the packaging! You guys know how I feel about stinky supplements - I will not take them if I can't stand the smell of them. This was not an issue with my Koge Energy Pack at all!!
Now, you guys know I'm not about bullshit so you know I'm being straight forward when I say that I am really impressed by
Koge Vitamins
. This company has pledged to "remain fully transparent and honest with our pricing, so customers know exactly what they're paying for at all times". They are also partnering with Vitamin Angel, which is a nonprofit organization working to reduce child mortality rates across the globe. You can learn more about how your purchases from
Koge
will support the fight to rid malnutrition among children worldwide by visiting Koge's
Our Cause
page.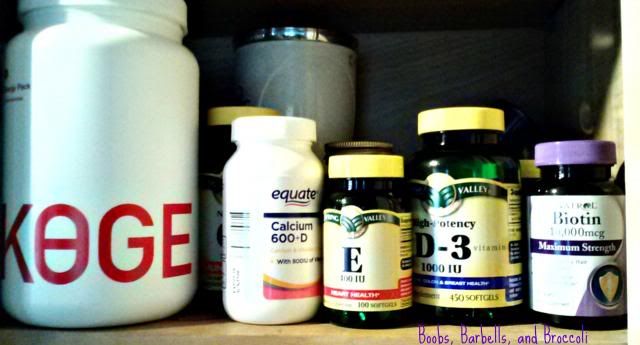 The Koge bottle I received has been given a home on one of the supplement shelves so I guess you can say, it's a member of the contest prep-my body is a temple-energize your body family :)