This post is sponsored by
Under Armour
through
FitFluential
. Now that the FTC compliance obligation is out of the way! *I totally stole that line from my fellow FitFluential Ambassador
Jill
:)
Almost a month and a half ago I shared with you in my "
What's Beautiful? I'll Show You!
" post that I was going to be participating in the Under Armour What's Beautiful challenge.The goal I declared for myself was -->
"I will be a force to be reckoned with.
I will finish in the top 10 of my first national figure competition.
I WILL."
Now, I knew the goal was a lofty one. Top 10?!?! At my first national show?!?! C'mon now! The biggest class I had ever competed in was 16 girls. Classes at national shows are 25 plus. I had never won an overall title, let alone my class yet here I stood. Declaring that I would finish in the top 10 of my first ever national competition.
I dieted....I trained...I had dates with the treadmill...lunch dates with the StairMonster....and then I trained some more! As the countdown on my phone went from triple digits to double digits to single digits, I knew that the moment of truth was approaching.
Then the countdown said "TODAY" and there was no turning back. The stage, the competition, the scrutiny by the judges were waiting.
I was competitor #337. When they did the first round of callouts and I didn't hear my number, my heart did drop a bit. The judges excused the first group and began calling out the second round of numbers. #337 was not among them. My heart didn't just drop - I think my lip trembled and I felt like I might cry. If I wasn't in the second group of girls, that meant I wasn't in the top 10. In the end, I was in the third round of callouts...possibly 15th or 16th place.
A few moments after prejuding ended
I didn't make it happen.
I fell short.
I was unable to accomplish my goal.
In the end, I didn't meet my specific goal of making the top 10 but I accomplished other goals that I am super stoked about.
* I finally competed in a national competition
* I nailed my posing
* I wasn't afraid to ask for feedback
* I finally visited Chicago!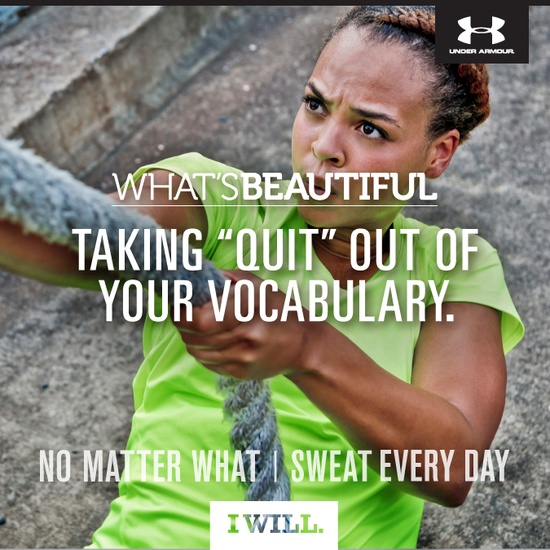 So what's next? Well, I am still participating in the challenge with a "revised" goal! I am still determined to be a force to be reckoned with! I have some things on the horizon and I'll share them with you soon. Just know this, I might be down but I'm definitely not out.
To quote a line from my favorite poem by William Ernest Henley,
"In the fell clutch of circumstance
I have not winced nor cried aloud.
Under the bludgeonings of chance
My head is bloody, but unbowed."
I WILL.