Y'all.....Los Angeles was frickin' A-M-A-Z-I-N-G!!! What an amazing city!! I had so much fun and I can't wait to tell you all about it! I'll save my adventures with my brother for its own blog post so let's start with Day 1 of TheFitExpo!
TheFitExpo was being held at the Los Angeles Convention Center and lucky for me, this was about a 10-15 minute walk from my brother's apartment. Friday night, Jonathan showed me where the Convention Center was in proximity to the restaurant we ate at and his apartment. It was an easy route and I wasn't worried about finding my way the next morning. Umm....ya....except we didn't know they were going to close that particular route because the Grammy's were going to be taking place on Sunday. So, I had to take the "long" route and after a lenghtier power walk than I anticipated, I made it to the Convention Center and headed upstairs to meet the rest of the group.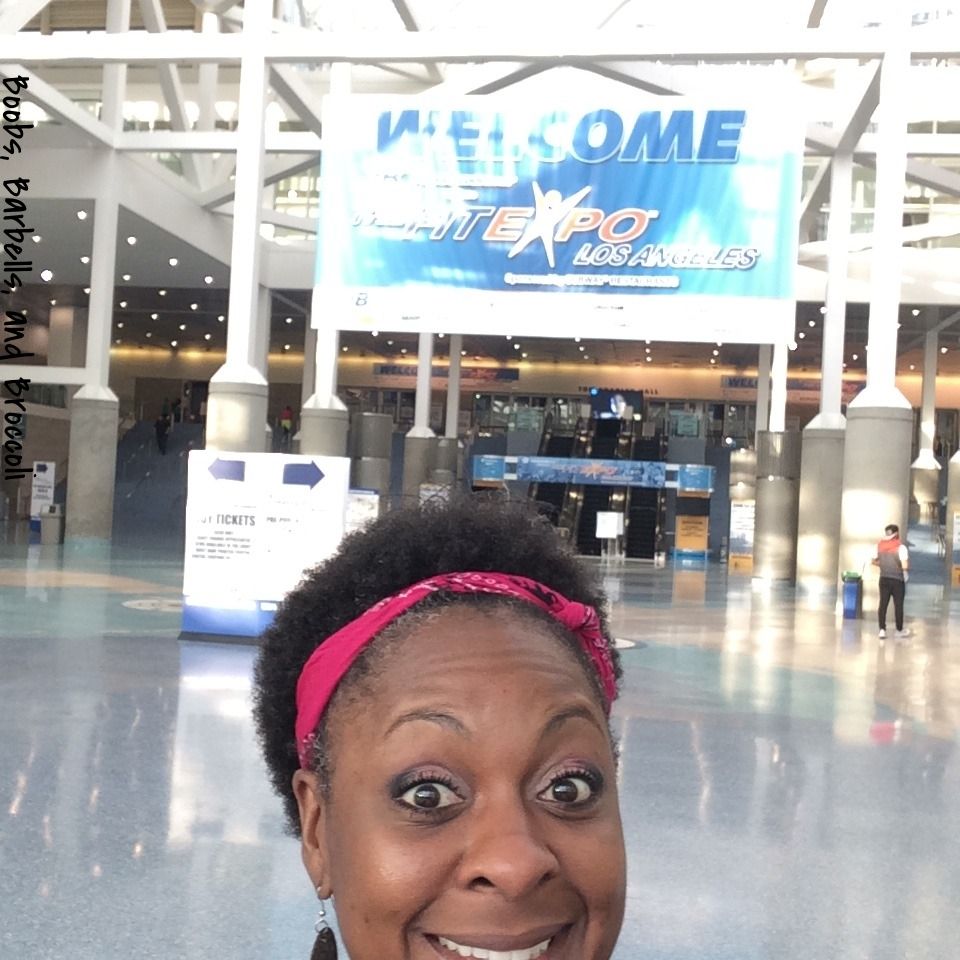 Made it!
7:45 am and even though the expo didn't open until 10,
people were already in line and waiting to buy tickets!
Our room for the weekend - this was where we could refuel,
charge our phones, blog, tweet, etc in "peace &quiet" :)
After going over some of the logistics of the day, we were able to introduce ourselves to one another and chat it up. The first person I
HAD
to meet was Jody from
Truth2BeingFit
. I'm not quite sure how I "discovered" her blog but from the moment I started reading, I was a fan! Jody is 57 and still throwin' around heavy weight almost every day (she has been lifting weights for over 30 years!). I love that her blog is a mix of workouts, reviews, glimpses into her personal life, and lessons about learning the lesson that "I Am Enough". The second she & I saw each other. there was squealing and hugging (which you know is a big deal because I don't hug...lol). Then we spotted Melissa from
Melissa Running It
. Cue more squealing and hugging! The funny thing is, it felt like we had met before and had known each other for years.
FitFluential
is not only about blogging or having a presence on social media. It is about connecting with others, finding inspiration from others, and forming bonds and friendships.
The calm before the storm :)
I and the other Ambassadors were then escorted downstairs to where the expo would be taking place and told that we could walk the floor. I'm not saying it was like telling a group of small children that they had Disneyland all to themselves....bbbbuuutttt......it could have been :)
Spotted these leggings from

J Fitness Wear

!
Went back and bought them once their booth was officially opened!
There were certain brands/companies I was looking for including
RSP Nutrition
,
6 Pack Bags
,
Smart Shake
, and of course,
Nubreed Nutrition
. I found almost all of them (except RSP) but Nubreed is the only booth whose table I jumped on for a picture :)
Before we knew it, it was time for the doors to open to the public. There was a rush, literally, of bodies through the doors. I could hear people talking about who they wanted to see, what workouts they wanted to do, what they wanted to buy, and more. There was this excitement in the air that I can't quite describe. It almost felt as electric as the Olympia Expo.
As I made my way over to the stage where the Ironman Naturally competition was being held, I walked past the Met-Rx booth. I glanced at the booth, glanced away, and then glanced back again. It took me a minute but my brain finally processed that I was staring directly at the current Ms. Figure Olympia Nicole Wilkins! I pulled out my phone and tried to be as sneaky as possible while lifting it up to take her picture. She looked right at me, laughed a little bit, then asked "Do you want to take a selfie??" DO I WANT TO TAKE A SELFIE?!?!?! While I wanted to jump up and down like a crazed fan, I calmly told her that I would love to take a selfie. Priceless moment!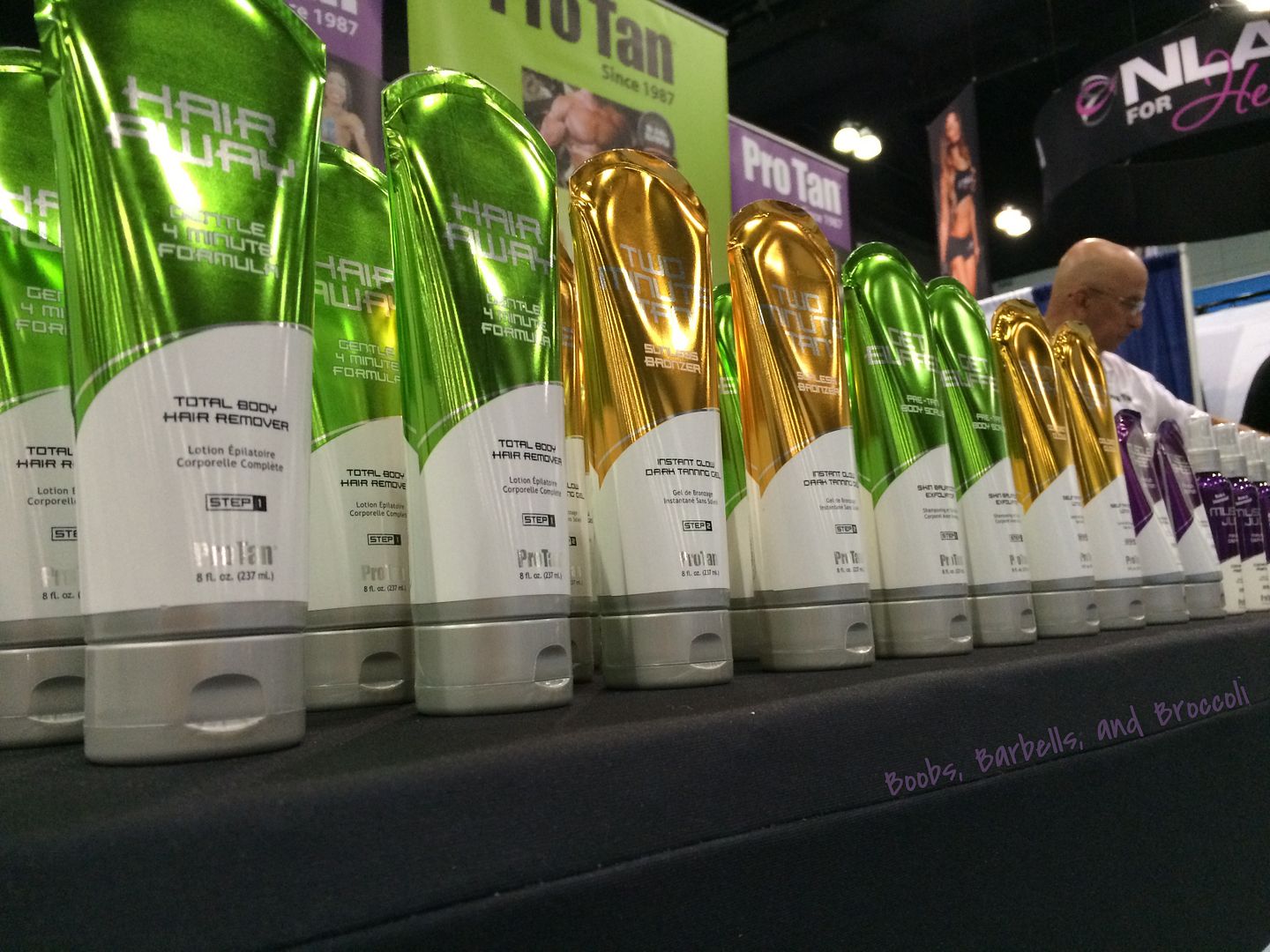 Pro-Tan was right behind the seating area for the competition -
perfect location :)
The competition color/tanner I use.
Yes...I use tanner....lol...
When you get up to walk the expo, you lose your
seat in the front for the Bodyspace Spokesmodel finals :(
Winners of the Bodybuilding.com Bodyspace Spokesmodel Search


photo credit
Over the course of the day, I watched the prejuding and finals portions of the Ironman Naturally competition. I also had the opportunity to watch the Bodybuilding.com Bodyspace Spokesmodel finals. Both competitions made me itch for the stage. The music, the Pro-Tan, the glaze, the posing. I missed it all as I sat in the crowd.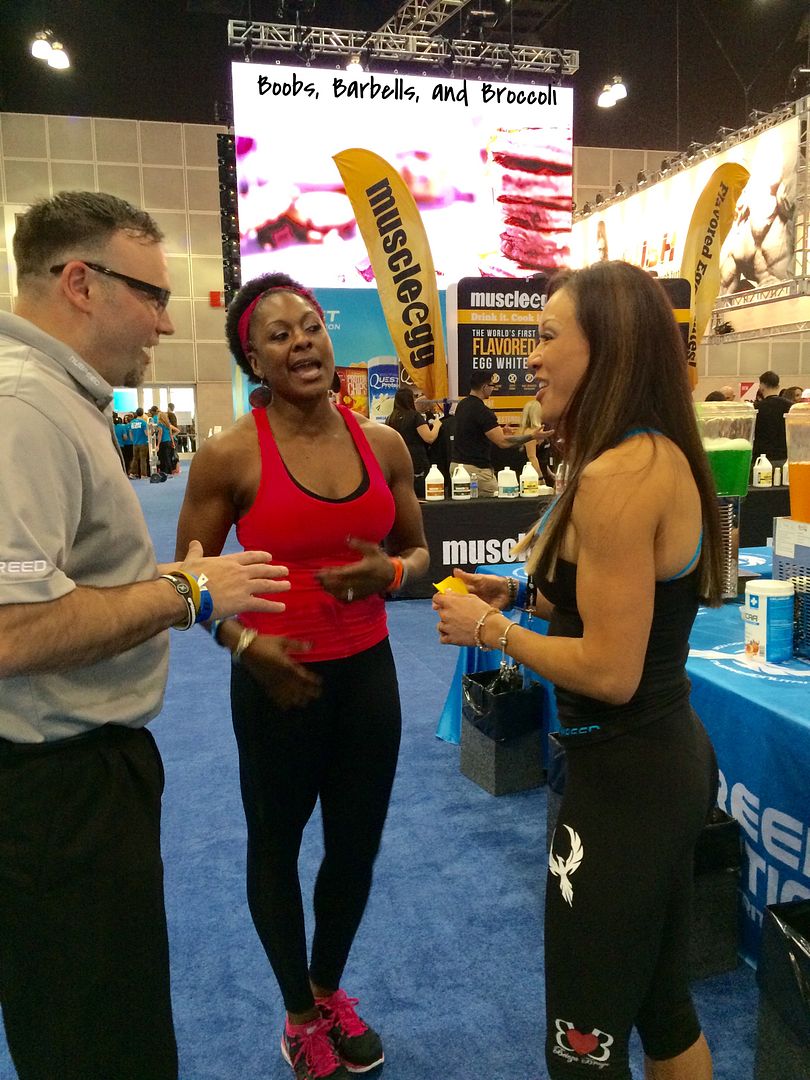 I have no idea what I was saying....
but I'm obviously I'm excited...lol
OMG! Krissy Chin!
In between competitions, I did a few more laps around the expo. I made my way back to the Nubreed booth because I needed to stock up and guess what?? As I'm walking by, I hear a voice yell "MrsFitLibrarian!" I turned and recognized one of the Nubreed guys that I met at Europa. We started chatted and while I was paying attention to what he was saying, I could see that Krissy Chin was working the booth! I made a comment about Nubreed being smart to make her one of their sponsored athletes and next thing I know, I'm standing next to Krissy Chin - chatting with her - and posing for a picture!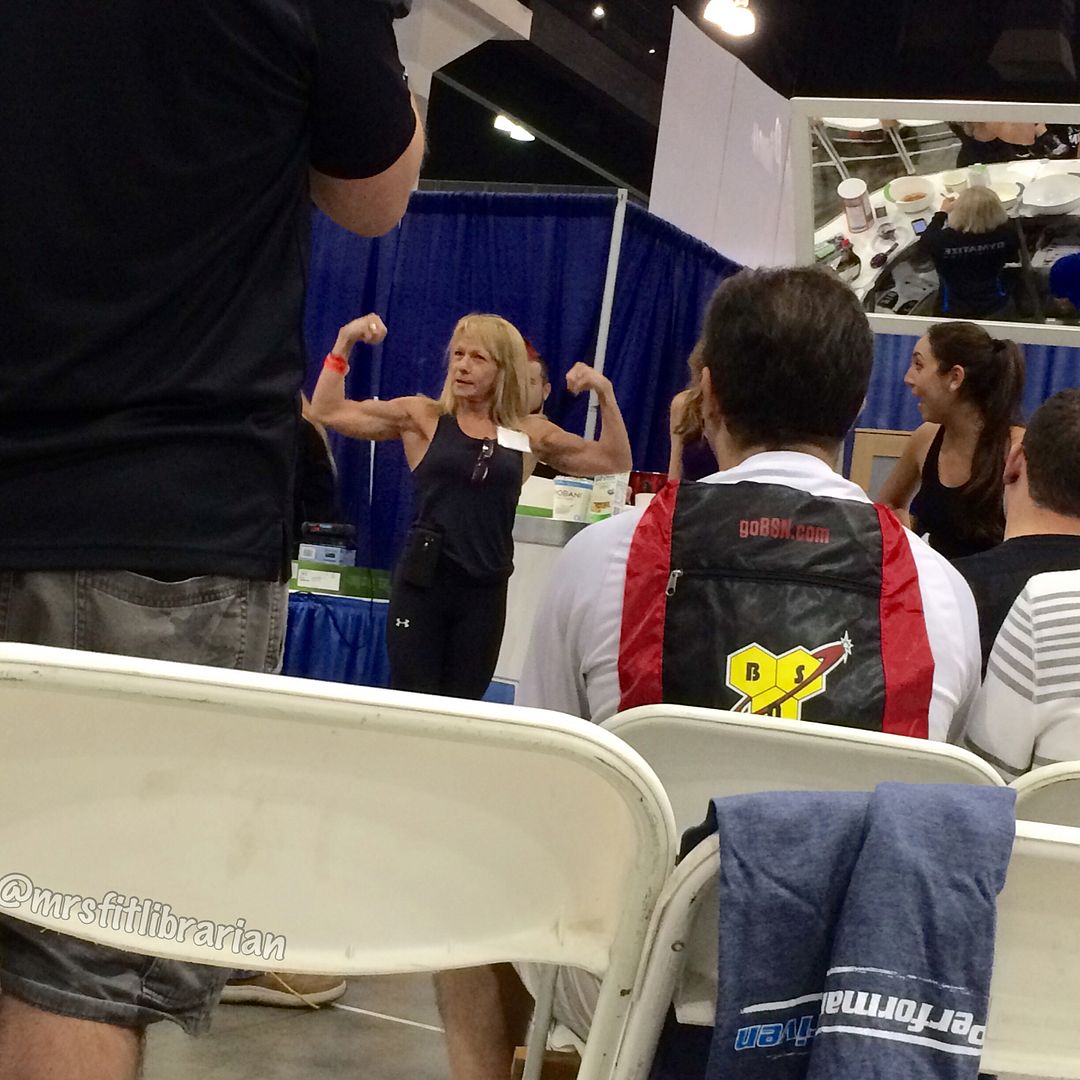 Jody

showing them what a beast looks like!
Tasty samples!
The expo also had a "Healthy Living Pavilion" where various presenters had food demonstrations. I've never taken the time to attend a food demo so I decided that I would definitely do it this time around. Jody and I attended a demo by Dymatize and they started the demo by asking who wanted to be in a "flex off". Jody walked up with no fear, busted out her guns, and walked away with a box of Supreme Protein Bars! #winning
The expo in full swing!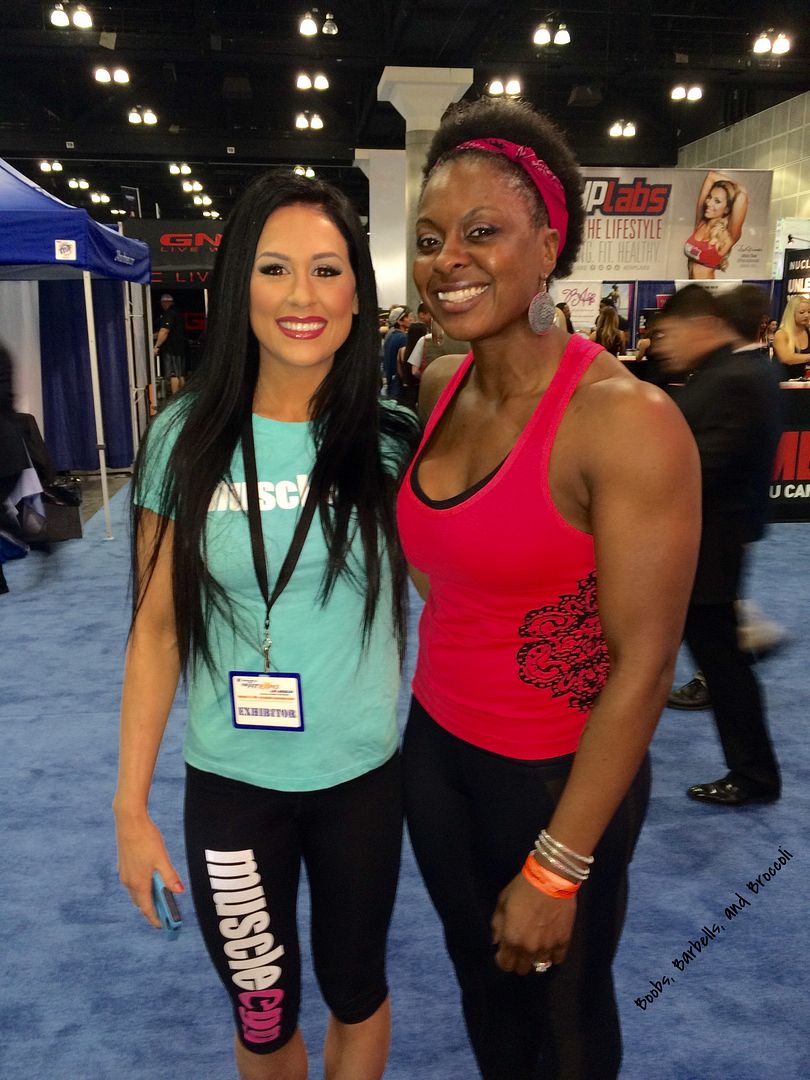 Ms. Bikini Olympia Ashley Kaltwasser
*she told me to make sure to use flash for all of my pics! :)
CT Fletcher!! ISYMFS!
By 6:00 pm, I was still very excited but exhausted! I decided that it was probably a great time to head out. I knew that Sunday would also be a full day and I wanted to make sure I had enough energy to make it through it. :)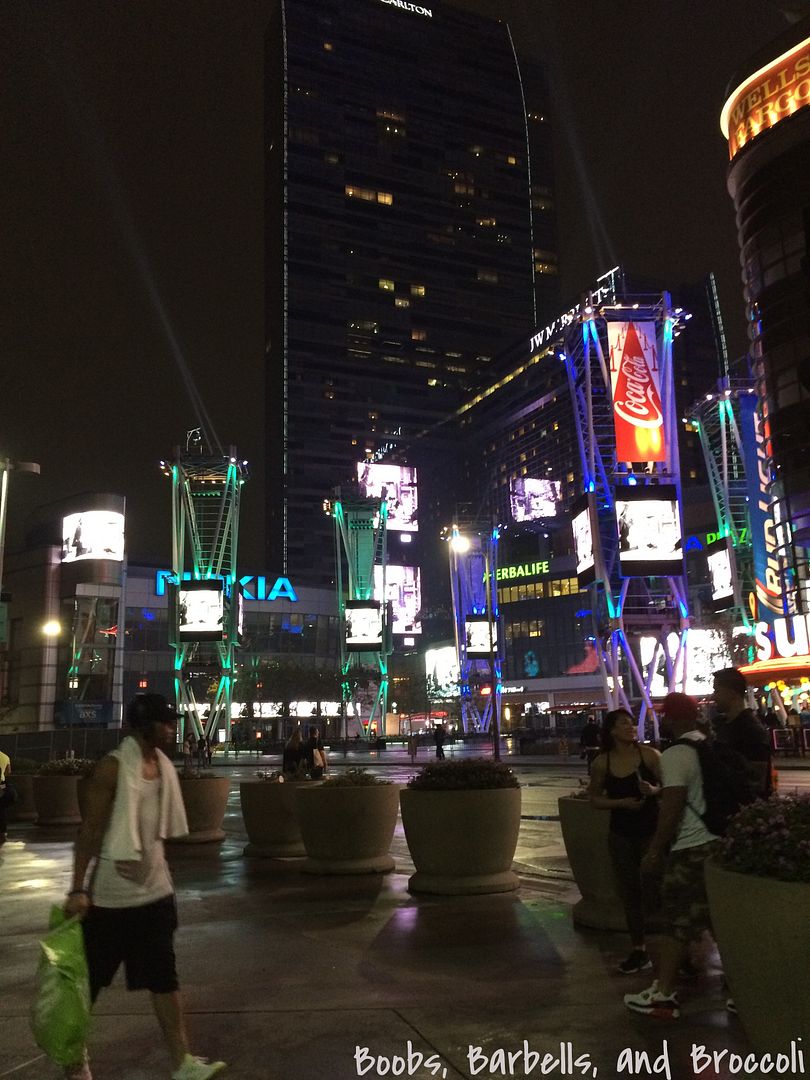 Walking home...
I'm pretty sure that as I walked back to Jonathan's apartment, I had a giant grin on my face. I would have never imagined that I would be doing this. This being driving to L.A. by myself....attending an expo on behalf of a large influential company...meeting people that I look up to and admire...exploring downtown L.A. on my own....
What an adventure.
And this was only day 1!