Recently, you may have noticed the appearance of the above whatchamacallit (lol!) in the bottom left hand corner of my blog. If it didn't catch your eye, take a moment to give it a quick glance then bring your eyes back here :)
I am now a featured publisher/blogger on
Shareaholic's Fitness Channel
! I am so excited about the opportunity for my blog posts to appear on this channel with some really incredible, motivating FitFluential bloggers. Check out Shareaholic's blog post officially welcoming the FitFluential bloggers
here
.
So...you might be thinking to yourself..."ok...but that doesn't explain the whatchamacallit..??" The whatchamacallit or Shareaholic button will allow you, the awesome readers of my blog, to share my blog posts quickly...from anywhere...with anyone you would like! You can share posts using services like Facebook, Twitter, Wordpress, Google Mail, and more. It is my hope that, if you read something here that you think others might benefit from or enjoy, you will share it with them using the Shareaholic button!
Let's get into some workout & training fun, shall we??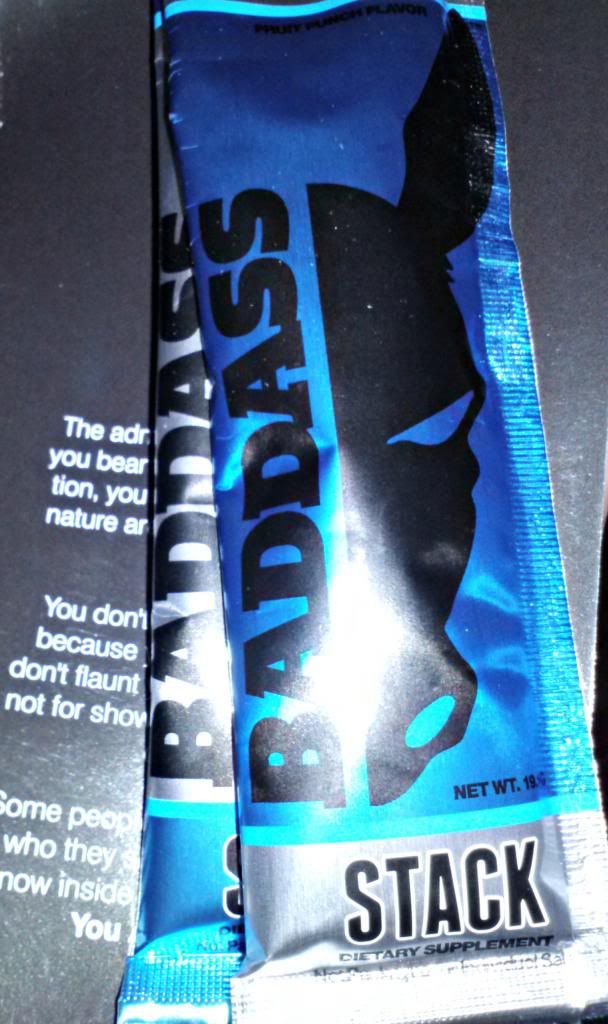 Last week, I tried another supplement sample from the November Muscle & Fitness sample box that I received. The sample was the
Pre & Post Workout Drink
from Baddass Nutrition. I was really excited to try this sample because I saw their booth at the Olympia Expo but there were a bazillion people in line so I never got close enough to pick up a sample or talk to one of the folks working the booth.
The directions state to take this pre-workout supplement 15 minutes before your workout on an empty stomach. My drive from home to the gym is about 20 minutes so I didn't add the mixture to my water and drink it until I had been on the road a little more than 5 minutes. The fruit punch flavor of the pre-workout drink was subtle and I can happily say it did not taste one bit like Hawaiian Punch! The powder did mix fairly well with water but there was a layer at the bottom of my shaker bottle when I had finished the drink. I think I am to blame for that as I didn't stir the mixture as long as I normally would have - I was trying to mix the drink while getting my workout stuff ready while getting out of the door on time.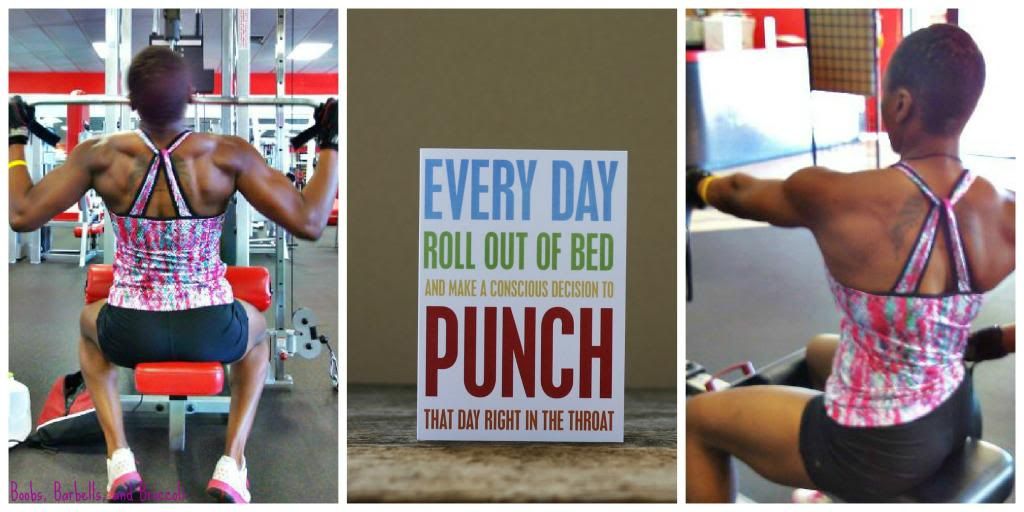 I felt very strong while using this supplement - not She Hulk strong but Tenecia 2.0 strong :) It did give me a boost of energy that, in my opinion, spiked at the beginning of my workout and maintained at a consistent level throughout my workout. I am really happy that I tried this supplement when doing my back workout because my body didn't tire out on me and I felt like I could push myself a bit harder than I normally would have. Operation Build-A-Back is still in effect so every strong, I think I'm going to throw up workout is a plus.
The post-workout component of this stack is grape flavored and is tasty! It reminded me of the grape Glutalean that I love so dearly. According to the Baddass website, the "Stack Post contains CarnoSyn, to delay muscle fatigue as well as BCAA's, which aid with muscle repair. You tear it down, so you can rebuild it even stronger the next time."
Again, this is one of the best things about the
Muscle and Fitness Monthly Supplement Sampling Program
, you can try & learn about products and figure out if they are a thumbs up (like this one!) or a thumbs down (like Universal Shock Therapy) without spending a large amount of money to do so. I'm definitely digging the products from Baddass and will definitely order from them in the near future.
I have to leave you with this excerpt from the home page of
Baddass
Nutrition's website - it's awesome and I'm pretty sure it confirmed my love for this new company & its products!
"YOU GET CALLED CRAZY A LOT.
Crazy is just a name the lazy use to describe the dedicated. One more rep is the difference between an average and an excellent workout, and one more rep (or five, or six) is exactly what
BADDASS Nutritional supplements give you.
BADDASS helps you train harder, longer, better.
Some people need others to tell them who they should be.
Some people already know.
You know.
You Are BADDASS."
Disclaimer:
I received these products free of charge and was given no compensation for this review.
All opinions expressed are my own.