So, I competed in the NPC Western Regional competition on November 9 & 10. I promised a recap of the show....and then NOTHING! I did not provide said recap...what a liar I am! Here is part 1 of a condensed, way over due recap of my last competition of the season.
errands!!
For this show, I decided that I would take most of peak week off and just "cruise", if you will, into show day. I worked Monday and Tuesday of peak week and I have to tell you, I'm not really sure why I haven't done this same thing before! It was really nice to not have to worry about scheduling meals, workouts, and cardio around my work schedule.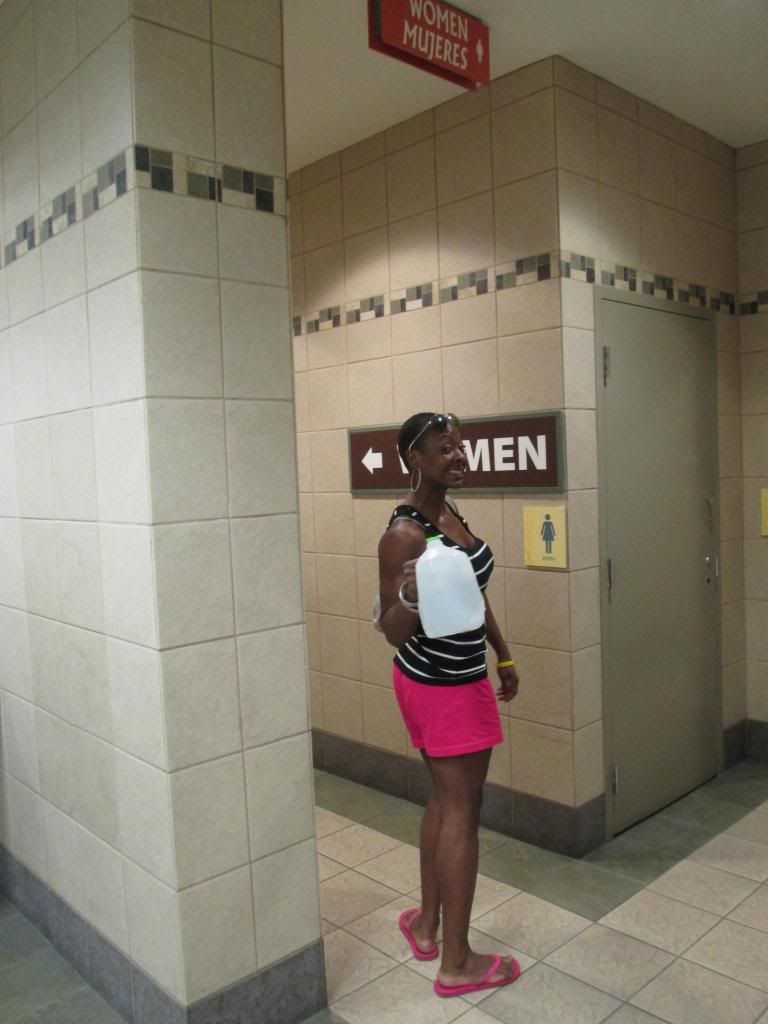 Gotta get your water AND potty breaks in :)
I was able to run last minute errands without feeling stressed about time constraints and I was able to R-E-S-T. I told Tom that in the future, I am not going to work more than the first two (possibly three depending on the staffing levels at the library) days of peak week.
As you all know, I have the
crappy
awesome (insert sarcasm here) luck of having my period almost every time I step on stage. You see where I'm going with this?? Yep, this show was no different. I was literally cursing out my uterus and whining to Tom & The Boss #1 that just ONCE I would like to step on stage without all the womanly functions drama! I was really worried that I was going be heavy, squishy, and/or soft and I was a bit but it wasn't out of control.
The morning of pre-judging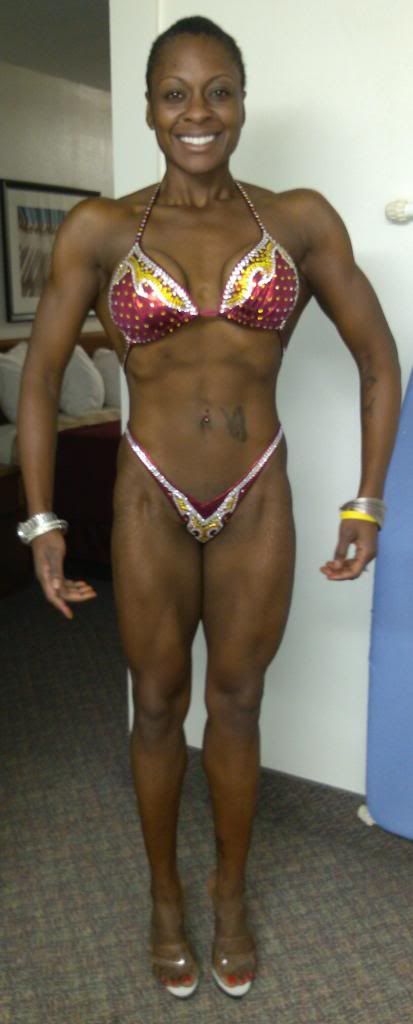 Right before heading to the athlete's meeting
I'm going to be completely honest here, the team (The Boss #1, Tom aka The Boss #2, and myself) really thought I had a chance at top 3 based on the way my physique was coming together Thursday and Friday right before pre-judging started.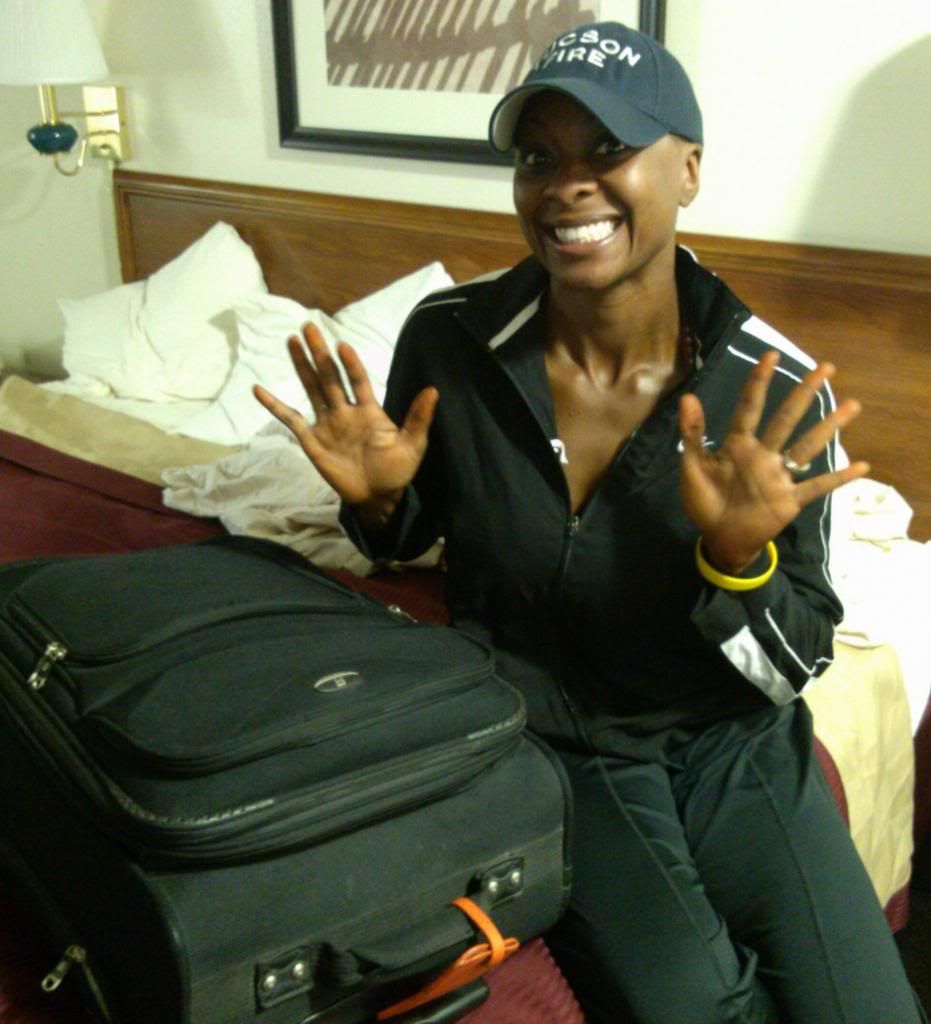 Getting ready to head out
During the athlete's meeting, a woman sat next to me and after a few silent minutes, we began awkwardly chatting with one another. It turns out she knew me from my blog &
siouxcountry
- how cool is that?? Her name was Sheena and she was competing in her first competition. Sheena looked so beautiful and has made some tremendous improvements to her physique with the help of her coach IFBB Fitness Pro Whitney Jones of
AZ Pro Physiques
. I can't wait to see her on stage again next year.
The incredibly gorgeous Sheena is on the right!
During the time after the athlete's meeting and before stepping on stage, I just tried to be still and get myself ready. I did my makeup...listened to my ipod...glued my fake nails on...read some of my book...listened to more music...and right when I was about to start getting antsy, it was time to start pumping up & slappin' some glaze on.
Since there were 13 girls in my class, we were separated into two lines. Each line presented itself to the judges and then went to the sides of the stage. As the judges whispered to each other about who they wanted to call forward, I was nervous and slightly queasy. As they began calling numbers (in numeric order as not to give away placings), I crossed my fingers and kept repeating to myself "call 77...call 77..". Suddenly a voice says, "We'd like to see number 77" and I silently screamed "yes" but I kept it cool on the outside.
First call-outs! Jumping for glee on the inside!
The judges took us through a round of quarter turns but didn't move anyone around. I wasn't quite sure if that was a good or bad sign. After the second round of quarter turns, they began asking certain girls to switch places. After the changes, they took us through another round of turns.
I was never moved during the different rounds of turns and as I walked off stage, I was fairly certain I was going to place in the top 3. I wasn't quite sure how close to the middle I was...I sort of thought I and the girl to my left were "the middle" of the line of girls.
Tom aka The Boss #2 and I after pre-judging!
After I had gathered my stuff and went to find Tom, we talked about how we thought things had went. Since Tom was in the audience and could see exactly who was where, he thought "the middle" of the line was not who I had initially thought it was. I still held onto the hope that I was top 3 but we agreed that we would look at the pictures he had taken and dissect them over the burger I had been told I could have!
I'm going to stop here...I don't want to squeeze EVERYTHING into one post...
Up next...my photo shoot and where I exactly ended up placing....stay tuned!