Off-season is in full swing up in here & I'm lovin' it! I think what I love the most (besides being able to lift HEAVY! Holla!!") is the variety in my diet. Now, I did talk about The Boss telling me to "
Reel It In
" but that doesn't mean I don't get to have some fun with my food & beverage selections. This is why I was ridiculously excited about the opportunity to review some of the products from
FRS Healthy Performance
!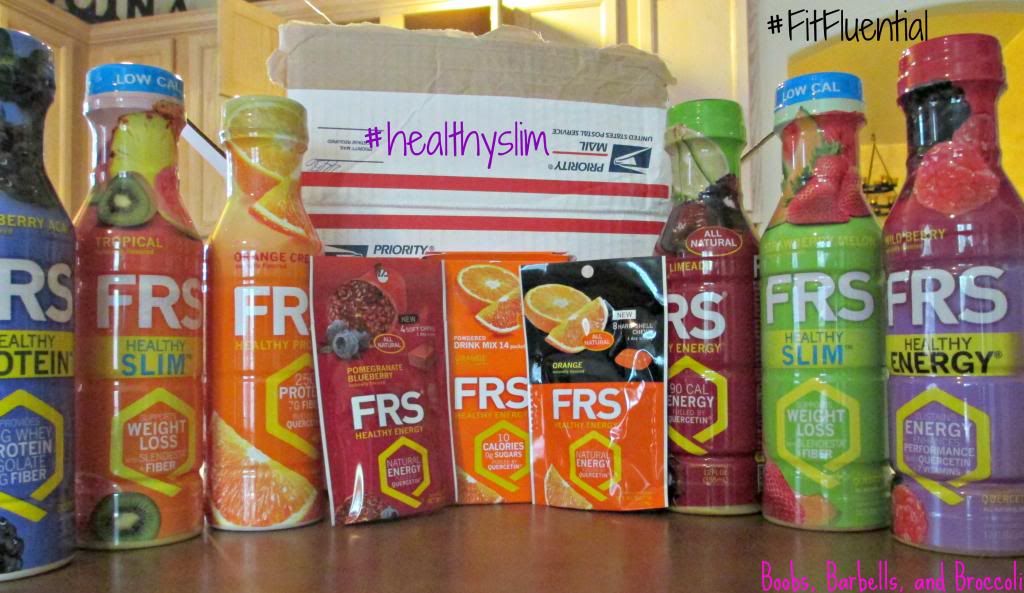 From the
FRS
website:
"FRS was originally developed by health scientists to provide sustained energy for chemotherapy patients. Today it is used by elite athletes, wellness experts and anyone who wants to lead a healthy, active lifestyle.
All FRS products feature quercetin, a powerful all-natural antioxidant found naturally in many fruits and vegetables. It has been shown in multiple clinical trials to provide sustained energy, increased endurance, immune system support along with many other health benefits."
FRS products are fueled by
quercetin
which is a powerful antioxidant found in foods like blueberries, red apples and grapes. Quercetin helps your body produce more real energy. In a
University of South Carolina's Arnold School of Public Health study
conducted by researchers, after taking quercetin for only seven day study participants had a 13.2 percent increase in endurance and a 3.9 percent increase in VO2max. According to Dr. Mark Davis, "These were statistically significant effects that indicate an important improvement in endurance capacity in a very short time." If you as an athlete or someone living a healthy lifestyle are not intrigued by this, that makes me go "hhhmmmm" ;)
These products should be tried over a period of time and in some cases, multiple times in a given day so remember this! You will experience a slight "pick me up" after your first serving but you will want to consume it daily (if possible) to experience the full benefits!
FRS Healthy Protein
FRS Healthy Protein bottles are ideal for travel or grabbing on your way out the door to run errands (which is what I did!). Each bottle is 190 calories, contains 25g of premium whey protein and 7g of fiber. I practically guzzled the Orange Cream bottle that I tried...I'm not kidding. I literally had to tell myself to slow down and drink slowly! The number of carbs in each bottle (11g) is higher than I would like but since I have a bit more wiggle room now (versus during prep), it was perfect for an on-the-go meal choice.
FRS Soft/Hard Chews
FRS soft chews are individually wrapped and ideal for throwing in your gym bag or purse so you have them wherever you need a boost of energy. Each 30 count bag provides 15 servings (2 soft chews = 1 serving)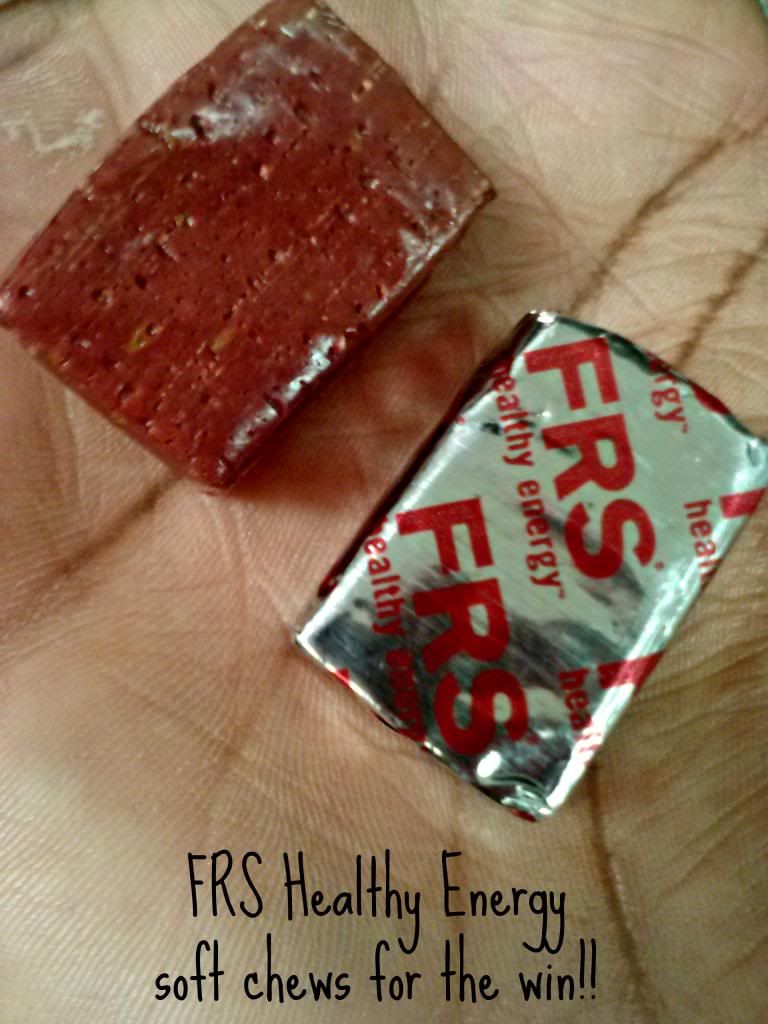 For me, the soft chews won in the battle of soft chew versus hard-shell chew. I was a little worried about the pomegranate blueberry combination but I was worried for nothing! The two flavors worked well together and I chewed my energy boosts like they were Starburst :) I really like that they are individually packaged because this made it easy for me to throw them into one of the small pockets of my gym bag when I was getting ready to leave. I do have to warn you that the smell can take some getting used to (you guys know how I am about smells!) - it was very "vitaminy" (yes, I made up a word!) but ignore it & pop that soft chew in your mouth!
The orange flavored hard chews tasted very similar to orange flavored Tic-Tacs and let's just say I'm not a fan. I know the package said that it was a hard chew but I didn't expect it to be as hard as it was. It took a couple of really hard bites for me to break the shell. I would have liked the shell to be closer to a Mentos candy or something along those lines.


The FRS Healthy Slim bottles would be a great option for me while prepping for a show. Healthy Slim bottles contain Slendesta®, which is a clinically-proven vegetable protein that helps people lose weight by managing appetite and hunger. The macros (those of who compete will recognize that word...lol!) or nutritional information for this is almost perfect for a prep diet or meal plan for someone trying to lose/maintain weight. Each bottle has 20 calories, 4 grams of carbs, and 2 grams of sugar. I poured this bottle into my NutriBullet and added a scoop of whey protein (because it does lack a protein punch). I thoroughly enjoyed it along with my grapefruit and the advance reader's copy of "The Slow Fix" I am currently reading!
FRS Healthy Energy Powder
I like soda, don't get me wrong. I've been known to guzzle a Mountain Dew or two but I cannot drink carbonated sugary drinks day after day. I am a member of Jug Nation as most of you know so I usually have plain o' water every day. It's nice to switch things up occasionally and this is where the FRS Healthy Energy powdered drink mix comes in. Each box contains 14 individual packets and each packet is 10 calories with 200% (that's right...200!!) of your daily value of vitamin C. I have a tendency of not following instructions when it comes to mixing powders to water but I made it a point to do so with this drink mix. I mixed one packet with 10 oz of cold water while working the Reference Desk. I was a bit thrown by the color (it was SUPER bright orange) but shrugged and took a sip. It was delicious! I really liked it and brought the rest of the box with me to work the next day.
I really enjoyed the FRS products I was able to sample and would recommend them to anyone of you. Don't believe me?? Monday, I went to my Dollar Store and in the drink aisle were bottles of FRS Healthy Defense. I
started screaming like I was on Oprah's Favorite Things show
gave a small cheer and proceeded to put 10 bottles in my basket - bamo!
If you're interested in trying out some of these products, head over to the
FRS website
and sign up for their free trial. You pay $3.95 for shipping & handling and you will receive a sample box of hard chews, soft chews, low calorie powder, and a coupon for a free can or bottle!
I was provided with the FRS products, free of charge
through their partnership with FitFluential.
I was not compensated this review and
simply exchanged my time for product.
All opinions expressed are my own!