I feel like it's only fair to warn you that this post is going to be me going on & on about how awesome my kid is. It is going to be touchy feely and might make you slightly ill. Consider yourself warned :)
Back in December, The Princess came to me and told me she wanted to cut her hair. My first thought was "oh hell naw" but I pretended to be deaf & stupid when I said, "I'm sorry, Sweetie. I didn't hear what you just said." She cooly replied, "Mom! You heard me! I want to cut my hair....short!" Now, I love the beautiful curls on her head and couldn't understand why she wanted to cut her hair.
I thought back to 2011 when I took her to trim her hair and while sitting in the chair, she proclaimed that she wanted bangs. I immediately told her she would have to wait until she was older for bangs but my mom was with us that day and you can guess what happened next.
I looked at my beautiful girl and realized she is growing up so fast. The days of me telling her "no" and her accepting that answer without question or discussion are pretty much over. With that in mind, I decided that I wanted to talk to her about why she decided she wanted a new 'do. When I asked her why she wanted to cut her hair, the words that came out of her mouth were not what I was expecting. She looked at me and said, "I read an article in the newspaper about a girl who was sick. She lost all of her hair and she was waiting to get a wig from Locks of Love." I nodded and encouraged her to continue. She then proceeded to tell me what she learned about
Locks of Love
from the article and with such love in her voice she said, "I have more than enough hair, Mom. There are kids who need it and so I want to cut it and donate it."
Now tell me, how could I continue to say no? I was so proud of my kiddo for wanting to help those less fortunate than her and she had come to this decision all on her own.
My very cute but very bald baby!
For a brief moment, I flashed back to the time when she had no hair because we had to shave her head after a brain surgery (another story for another time). I knew my baby girl was more than a head of hair but I would be a liar if I said I wasn't worried about her hair never growing back. I remember being scared for my child and wishing for her to be healthy no matter the cost even if that meant she would be bald forever. In this moment, I realized that the child that needed my daughter's hair must have parents that were feeling the same way I did and The Princess was helping not only their child but them as well.
Heading to the hair salon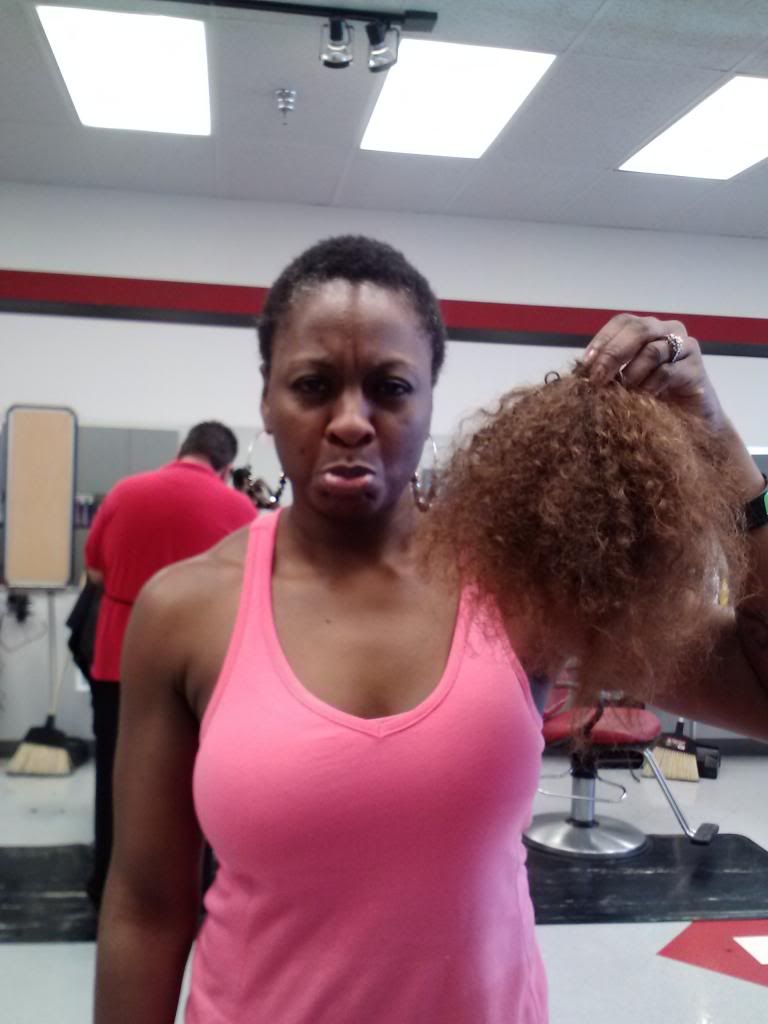 My baby's curls...wahhh!! :)
Last Saturday, the big chop took place. My friend Becky cut 11 inches of The Princess' curls. I was such a proud momma as my daughter explained to Becky why she was getting her hair cut and the look of pride when The Princess held up the ponytail that would be sent to
Locks of Love
was priceless.
I love that my daughter cares about her fellow man, even if she doesn't know them. I love that she is confident enough to change her appearance without caring about what others think. I love that she knows she is more than the hair on her head.
Plain and simple, I love her.