Let me be honest, I'm not a woman who spends a large amount of time in the kitchen whipping up amazing meals. Aluminium foil on baking sheets, a Crock Pot, a George Foreman grill, and a Vitamix are the staples of my kitchen gear. They help me prep my
boring
usual staples especially when I'm prepping.
In an attempt to "reel it in" per the instructions I was given by The Boss #1 (if you missed that post, you can read it
here
), I've been consistently using one of the Christmas gifts I received from my very generous mother-in-law.
Look at my new toy!!
That's right....my
NutriBullet
, baby!!! Almost every morning for the past two weeks, I have been making a fruit & veggie shake for either meal #1 or #2.
My first shake was fairly basic since I was feeling a bit tentative and I didn't want to "overdo" it. I combined water, two handfuls of organic baby kale, 1 scoop of vanilla whey isolate protein powder, 1/2 cup of blackberries, 1 banana, and a little less than 1/4 cup of flax seeds. I wasn't sure that the NutriBullet would be able to blend all of these ingredients as well as my
Vitamix
did when I made similar type shakes but guess what, it did!!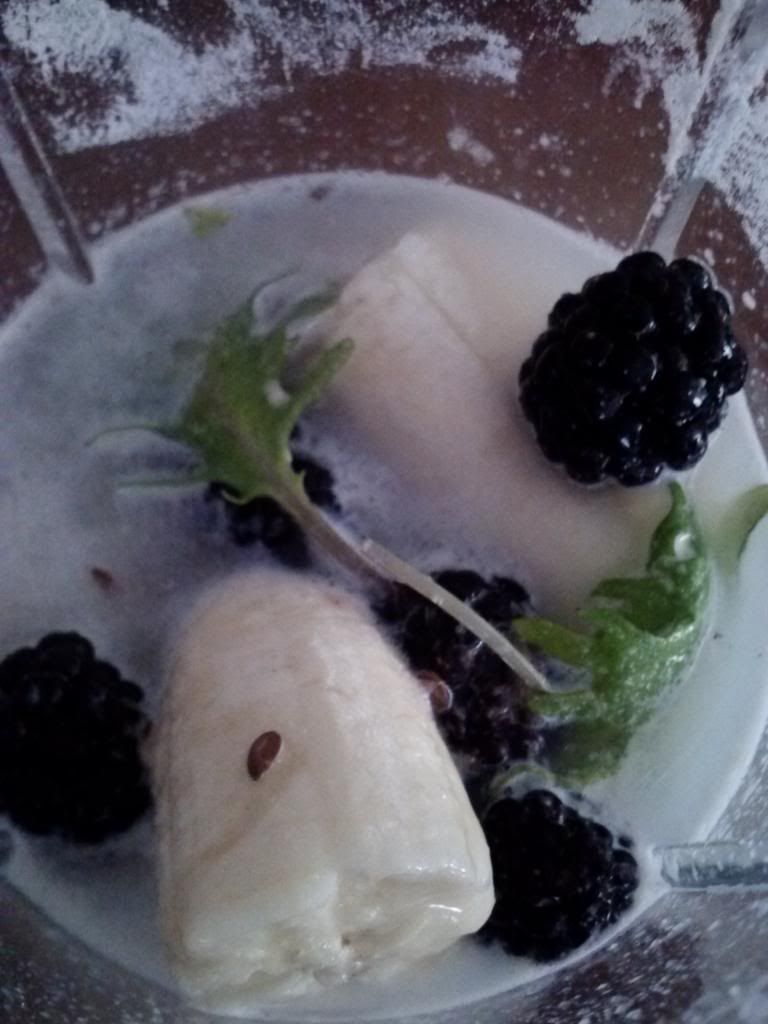 An added bonus --> it was quieter than the Vitamix so I didn't have to take it out to the garage to make my shake like I've had to do in the past! The end result was a tasty shake that was such a pretty color, I told myself I would love to have a nail polish of the same color :)
During my weekend trip to the Dollar Store, I found pineapples and green apples. In an attempt to be adventurous (because I am NOT a fruit person), I bought both to use in my shake concoctions. I crossed my fingers that the purchase was a good idea and not a waste of money that I could have used on Fiddle Faddle!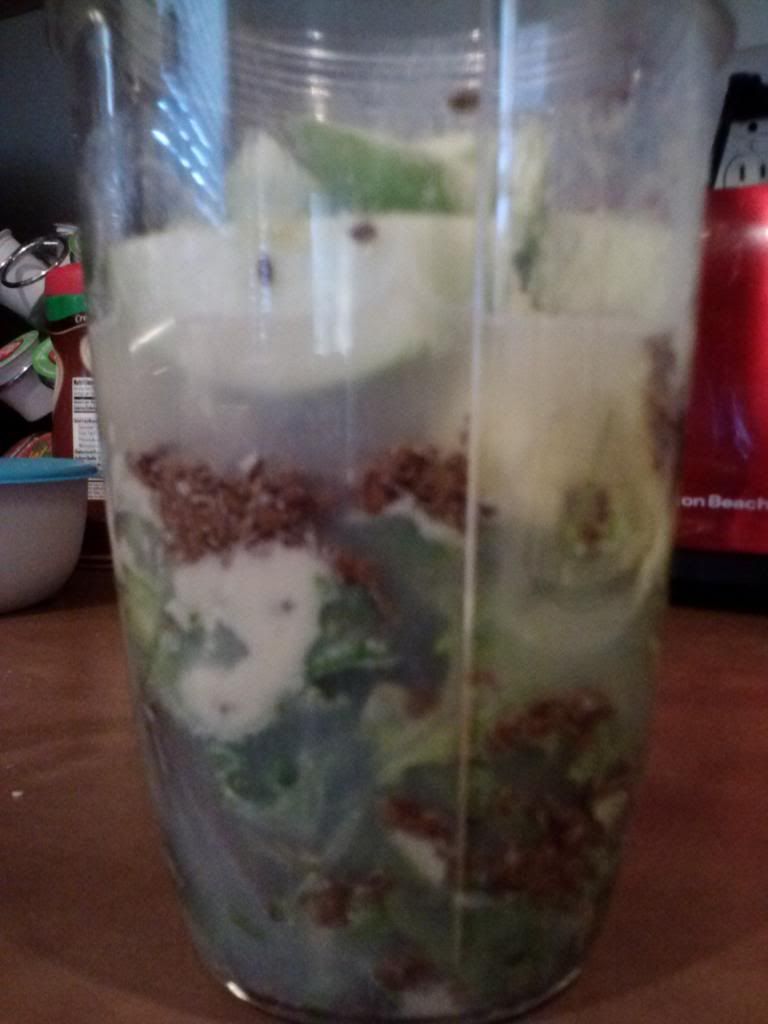 This shake was made with two handfuls of organic baby kale, 1 green apple, 1/2 cup of pineapple, 1 scoop of vanilla whey isolate protein powder, and 1/4 cup of flax seeds.
It survived the car & elevator ride!
Since this shake was going to be meal #2 and it wasn't time to eat yet, I used one of the lids that came with the NutriBullet to transport my shake from home to work safely and mess-free! I love that all I have to do is put my shake ingredients in the cup, blend it, slap a lid on it, and walk out of the house. If that's not winning, I'm not sure what is!
Healthy drinking and driving :)
One last thing I absolutely L-O-V-E is the handle that can be used with the cups. I worked a later schedule on Monday so when I left for work, I was ready for my next meal. I made my shake, twisted on the handle, gathered my stuff, and sipped yumminess as I drove to work!
So far I've used bananas, kale, spinach, apples, pineapples, tangerines, blackberries, blueberries, chia seeds, hemp seeds, and flax seeds. Any recommendations for recipes or other ingredients I should try? My mother-in-law shared
this recipe
that I'm equal parts scared and intrigued about.
Someone mentioned that there may be leakage issues with this particular product - has anyone who has a NutriBullet experienced this?
I am in no way affiliated with NutriBullet or Magic Bullet.
All opinions
expressed in this post were my own.