This post is all about the February sample box I received from the Muscle and Fitness Supplement Sampling program. If you haven't heard of this really cool program before, let me give you the Cliff's Notes version!! You may sign up to receive 5-7 samples of different products each month. They are currently offering a trial offer for monthly memberships. The cost to you is $7.50 or $11.25 for a 12 month membership. Shipping is free and members receive $15 off any $75+ order from the Muscle & Fitness store when they join. If this sounds like something you might want to try out, you can find additional information about the program at the
Muscle & Fitness Store
.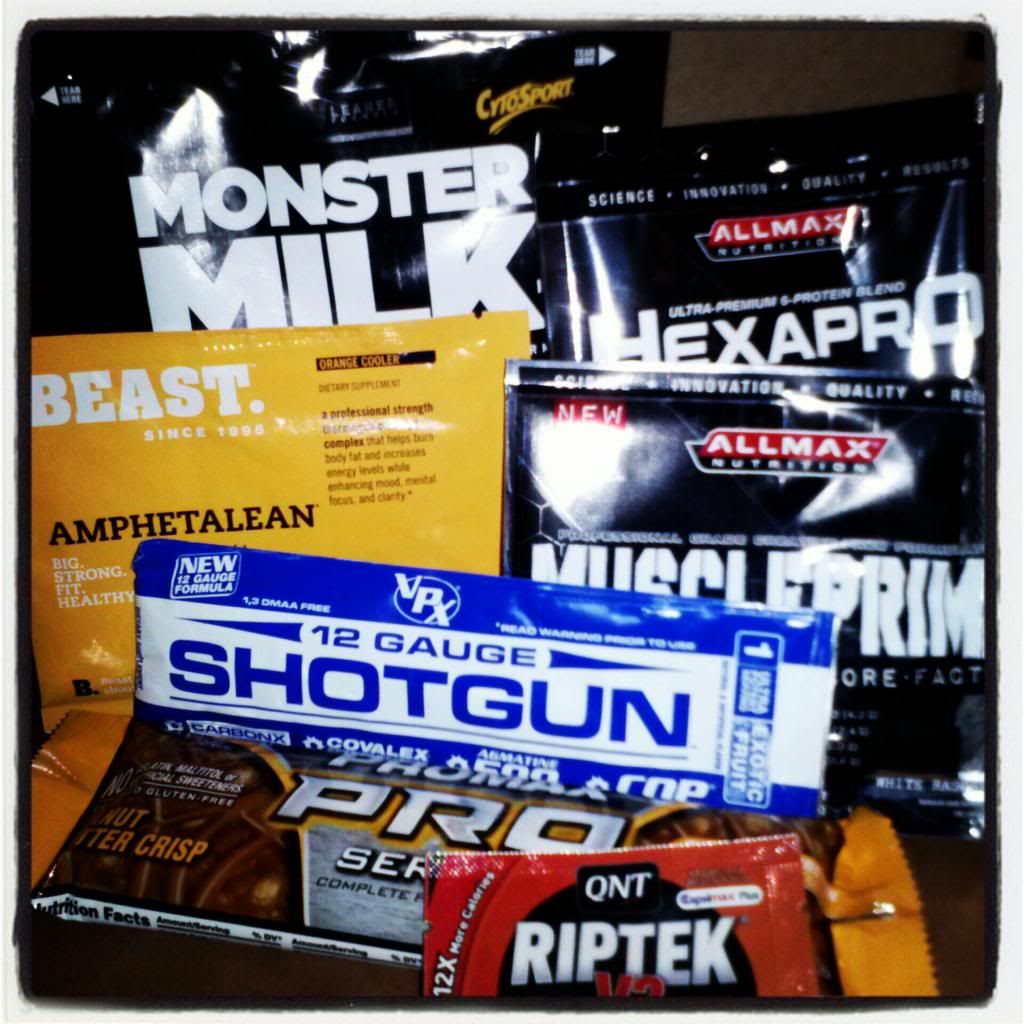 February's Haul! :)
There were a lot of goodies in February's sample box and I was giddy, to say the least. In addition to the samples pictured above I received a Cytosport shaker bottle. This girl can always use a shaker bottle so I was extremely excited when I found one in the box!
I am not a huge fan of protein bars. Let's be honest, I would rather have a meal than a "meal replacement bar"! However, there are times when you can't sit down to a meal(s)
because you forgot to pack them
so it's the protein bar in the pocket of your lunch bag to the rescue! The
Promax Pro Series
Peanut Butter Crisp bar is 350 calories per bar with 28g of protein & 37g of carbs. I didn't eat the whole bar in one setting and half a serving was more than enough to fill me up. The taste was better than some protein bars that I've tasted and I did like that the bars primary source of protein is whey protein. I would have liked the peanut butter taste to be a bit stronger but I'm also a girl who likes to eat peanut butter out of the jar by the spoonful so... *shrugs*
Amphetalean from Beast Sports Nutrition
is a product that is supposed to give you an energy boost while burning body fat. According to Beast Sports Nutrition, "Amphetalean is a strong energy formula that gives you a boost and keeps your energy level constant during your training or workout. While elevating your energy levels, Amphetalean also helps your mind focus and promotes weight loss". Here's what I can tell you from taking the one serving that I received - it tasted like Hi-C Orange. I'm being a bit facetious but honestly, I only took one serving and in my opinion, that is not enough to for me to say whether it did or did not promote weight loss. I didn't notice a significant change in my energy levels and again, I'm not sure if that's because I only took one serving of it. The powder did mix well with cold water and there were no clumps (which is always a positive) but the color of the mixture was this borderline neon orange so don't let that freak you out! The taste, as I said, reminded me of Hi-C and there's nothing wrong with that!
One of the samples that I fell in love with was the
VPX Sports 12 Gauge Shotgun
!! Excuse my language but this is some good shit!! It is a pre-workout supplement that, according to VPX Sports, "delivers the extreme mental acuity and intense energy required for explosive workouts in the gym and on the field". I decided to take this on an Operation Build-A-Back workout day and since it was my first time taking it, I followed the instructions as stated on the package. Close to 30 minutes after taking it, I started to feel a little tingle in my nose and fingertips and I knew it was starting to kick in. I didn't feel ridiculously hyper or energized but I really felt myself "zeroing in" on each exercise & rep. I could feel my blood pumping (not in a scary way) and I felt an intense need to smash my workout :) I loved this supplement so much that I ordered a full size container of it - ssscccooorrreee!!!
In being mindful of time, I'm not going to go into every sample in the box but I can say that February's sample box was an awesome one. I love that I found a new pre-workout supplement and that the folks at
Muscle & Fitness
included a shaker bottle (hey, it's the simple things that make me happy!). I can't wait to see what goodies will be in the March box!!!
Disclaimer:
I received these products free of charge and was given no compensation for this review.
All opinions expressed are my own.