I am a bit behind! I was supposed to post about my reveal several days ago but with work, prep, cooties, etc the week has just gotten away from me!
If you're not familiar with New Year New Gear, let me explain! Nicole over at Apples and Arteries has come up with "New Year New Gear". She came up with the exchange as a way for people to receive "gear" that will help motivate them and help them achieve their fitness goals. You receive a name and put together a fun package (under $15) for the person you are paired with.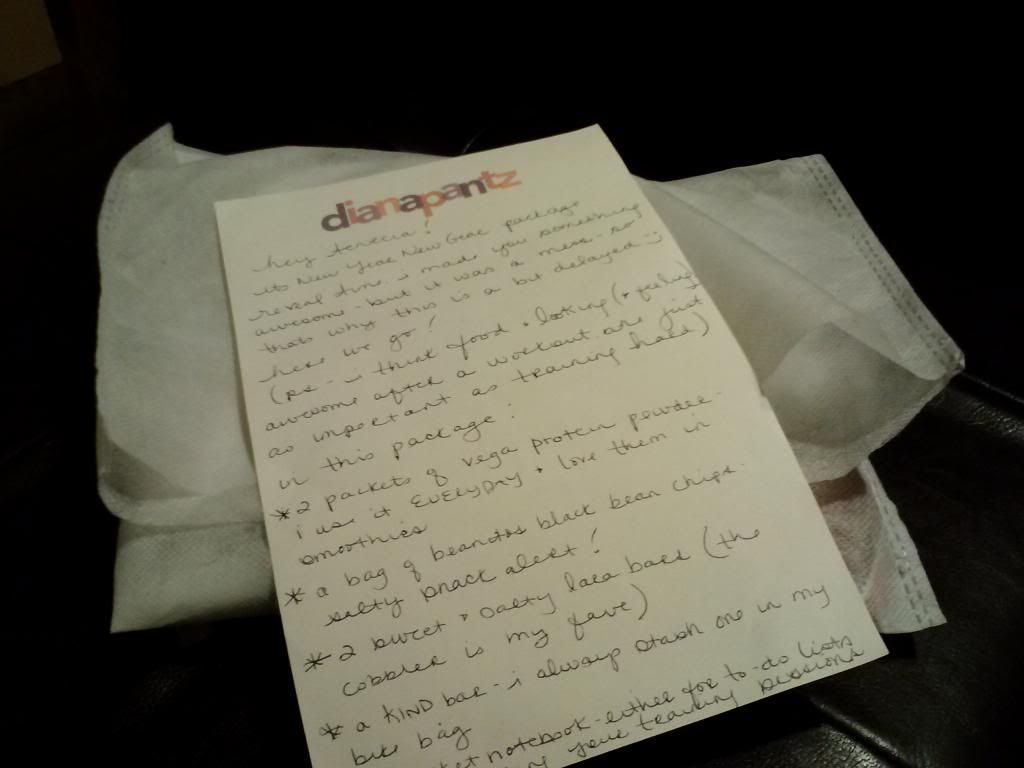 Look at Diana's beautiful handwriting!
This month, I received a package from the awesome Diana! I loved that it was a different approach to helping me meet my goals than "the norm". Diana wrote me a really great letter explaining why she had chosen the different things in the package. I really appreciated that she did that and it gave me a chance to learn a little bit more about her.
Tasty treats!
The package contained a variety of different treats and I had never tried any of them! I am so excited because I love sampling & trying new things and this is an opportunity to do that! I know...I know...you're looking at the picture above and thinking to yourself, "She's never used Burt's Bees?!?!" No, I have not but now I can with the new shimmer Diana hooked me up with :)
My new workout log!

My favoritest (yes, that's a word!) item in the whole package was the notebook Diana tucked away beneath the tasty uber bars and Beanitos chips :) In her letter, she suggested that I could use the notebook for a workout log and that's exactly what I'm going to do. Remember how I talked about trying to keep a positive outlook during this prep? Well, this is just one of the tools I'm going to use to help me do that!
Thank you so much, Diana! Your package was pure perfection and I loved it!!
If you're interested in seeing what I sent to Becky of Olives 'n' Wine, check out her reveal post here.
I think there's still time to join the March exchange, so head over to Apples & Arteries and sign up. If you can't join us for March, then sign up for April! The more the merrier!!!